With apps at Shopify, these are the extra features you can add to your Shopify webshop - and it is the additional features and layout options that are not already part of your chosen theme.
We have found the best
Apps can be used for eg marketing, sales, delivery, inventory management and customer service. And many of them cost from $ 5 to $ 50 - however, some are also free to integrate into your Shopify Shop.
You can find thousands of apps in Shopify's App store, which is why there is something for every technical nerd.
For example, use the custom apps to add features to your Shopify administrator, so you can directly access your store's data with Shopify's APIs or expand your webshop to other platforms using e.g. custom layouts.
App 1 - Reviews: Judge.me

Get social proof on your website through your customers
Social proof. Never has it been more important. Not because we are stupid, but because we are lazy. Because once everyone else has done 'something', many more will immediately follow suit. It's the age-old herd mentality. And it is widely used in digital marketing.
Therefore, you should take a closer look at the Shopify app, Judge.me. It helps you to collect reviews about your products. And for you, it can mean an increased conversion rate due to social proof. Once one or more of your customers has approved a product, more will follow.

And luckily, you can get all the features of Judge.me at an affordable price. It is available in a completely free version, but if you want a little more than just the scraped version, you have to get rid of 15 USD / month.

Does that sound complicated? So just calm down. The team behind Judge.me does all the work for you. They provide a custom widget design and positioning on your website. Therefore, you can be up and running in just 2 min.
You will be able to see:
How many reviews are displayed
Where on the screen they appear
What the design of the reviews looks like
It is also possible to integrate Yotpo, Stamped, Loox or Rivyo. Just import your existing reviews from here. Easy!
App 2 - E-mail: ActiveCampaign
Build your very own unique email list today
One of the most important marketing disciplines is email marketing, and therefore you obviously need a good platform for sending out newsletters.
ActiveCampaign offers everything you need in one unified email marketing tool - and then a little more. The program's advanced options for automated flows are hard to beat.
From just $ 15 / month (for up to 500 subscribers) you can get started with the Lite Edition. If you need access to the pro features such as the built-in CRM and lead score, the Plus plan starts at 70 USD / month.
You will be able to:
View behavioral data and thus personalize your mailings so that each recipient gets content that matches needs
Create different segments, tags and lists and thus create a good marketing engine
Reach out to customers who, for example, have left their shopping cart, given a product review, been inactive for a long period, shown interest in a special category or ...
Promise your current email marketing strategy with machine learning and features like predictable sending
So it's hard to find fault with ActiveCampaign and the large platform of page visits, geo-tracking, open-rates, e-commerce and more that you also get access to.
And best of all; the support is both friendly, helpful and fast - you will find it right here at MCB. We are one of the few ActiveCampaign Partners you will find in Denmark, and therefore we have extensive experience with the program.
We love it!
However, you need to pay attention to doing a good footwork for a start so that you get off to a good start. But once that is done, you can just sit back and enjoy the many great results.
App 3 - Instagram: FourSixty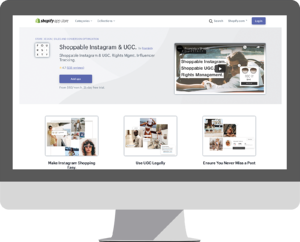 Sell ​​directly from your Instagram profile on your website
Inspire your customers to buy your products and make them feel a need for them with beautiful images.
FourSixty is the app designed to make your Instagram feed "shoppable". FourSixty has enabled e-commerce brands to create beautiful and inspiring galleries similar to their Instagram feed.
This means that you can tag different products and refer to them directly on your webshop. Therefore, suddenly there is not so far from thought to action for your potential customers.
Selected features:
Shoppable Instagram galleries - everywhere
Shoppable UGC galleries - everywhere
Collect UGC via @tags and @mentions
Product Specific Insta and UGC galleries on the product pages
Shop Instagram and UGC galleries for email campaigns
Instagram content and Instagram Stories analysis
Shop Instagram gallery in your basket and on the collection pages
It is especially brands that are engaged in swimwear, streetwear, activewear, jewelry, fashion and health and beauty products that work incredibly well with FourSixty. These manage to place their products in beautiful surroundings and thus show them off from their absolute best sides.
App 4 - Product Filter & Search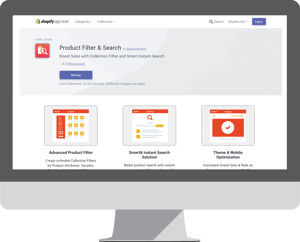 Make life easier for your customers
It is about lovingly taking your visitors by the hand once they have found their way to your webshop. And that's exactly why the BoostCommerce Team has developed the app, Product Filter & Search, which is a useful tool for anyone involved in e-commerce.
It provides the absolute best search and navigation experience in your shop, among other things. via filtering options and advanced features. They make search results more accurate and it prevents your potential customers from jumping away from your website ..
And then for the good; when a search is performed, search results are displayed immediately. This is done via a spell checker that suggests automatic correction. It saves time for your visitors and it will increase your sales.
Selected features:
Various filter menus for collections and search results pages
Dynamic filter settings based on collections, suppliers, product types, variants (eg size, color), rating, price, sales, percentage discount, stock, tags and metafields
Values ​​that can be merged (eg Light blue and dark blue as blue)
Various custom filter settings such as box, lists and swatches
The choice between vertical and horizontal filter menulayouts
Availability filtering such as 'show only items in stock', or first show the items that are in stock, rather than those that are not
Product Filter & Search also supports mobile optimization on all devices. And with just a single click to install, you can start enhancing the experience on your website - completely without coding.
App 5 - IEX Integration for E-conomic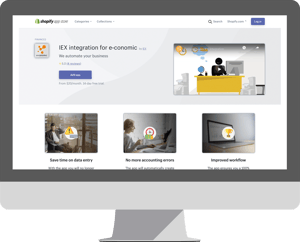 Combine IEX, E-Conomic and Shopify
Do you want to make it easy to keep track of all your order data? Yes, why not?
So take a look at IEX Integration for E-conomic.
IEX integration with E-conomic was developed by IEX itself, and it focuses on automatically connecting the Shopify stores with IEX in order to help transfer orders, customers or products from your webshop to the accounting program.
This means that you get rid of all the tedious, manual entry. And instead, you can spend your time on something else while avoiding the mistakes that manual work sometimes leads to. IEX provides a real-time data transfer. This means you can track your shop's profits during the day.
In addition, the clear IEX dashboard allows you to have the app managed and configured, so you can easily decide when the orders are transferred to E-conomic - depending on your financial status. At the same time, IEX is able to set inventory synchronization so that the inventory is automatically sent to the Shopify stores.
Selected features:
Automatically transfer orders, products and customers to E-conomic
Get real-time data transfer
Makes it easy to configure in the easy-to-use IEX dashboard
Get two-way inventory sync
App 6 - Shipmondo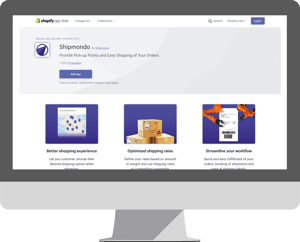 Automate your labels from your customers
Good service is easy shipping. And Shipmondo does it for you!
Shipmondo allows you to offer different shipping options to your paying customers. The committee includes i.a. the most popular such as Bring, dao, DB Schenker, DHL, GLS and PostNord. A list of the nearest pickup locations will be presented based on your customer's zip code, so you should not touch a finger. Shipmondo handles it all automatically - easily!
Many people are already using Shipmondo to achieve a better shopping experience, which is why you get a thoroughly tested tool with the app.
You can (should) especially use this app if you offer shipping to countries like Denmark, Norway, Sweden, Finland and many more.
Selected features:
Multiple carriers in one app
One list of nearest pickup locations
Shipping information is saved by order
Possibility to offer weight-based shipping price
Possibility to offer order quantity. Based shipping prices eg free shipping on purchases over x number of DKK.
Possibility to offer both weight and order quantity-based shipping price eg shipping to service points only available for order weights between 0 - 20 kg with different shipping prices based on order quantity
Possibility to offer postcode-based shipping price
With Shipmondo you get an automated system that can handle your labels from your customers in different places around the world. And it makes your job a lot easier - we call it efficiency!
App 7 - Product Colors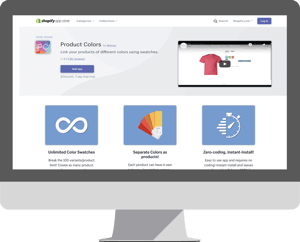 Gather all your color variations in one product
Do you want to make it easier to get an overview of your product range and the different variants in which you offer a product? Then take a look at the Product Colors app.
Product Colors allows you to add several different color variations to each product in your shop. This means that you do not have to use more variants to create the different colors, instead you create color variants for the separate products, and subsequently the app combines them with the color samples.
This way you get the best result on your webshop. You get rid of a manageable category with several similar products, and it gives a great clarity.
You can also easily set different prices, descriptions and images for each color.
And best of all; it requires no coding to install Product Colors. And it works with all themes without any changes on your part.
You can:
Make color swatches of 1 color, 2 colors, 3 colors or pictures of the different colors
Add as many product colors as you want
Choose from a variety of color themes
By giving your customers a better visual detail, you can enhance their experience in your store. It will surely increase your sales as it will be easier and faster to navigate between the same products.
App 8 - Delivery Timer Order Deadline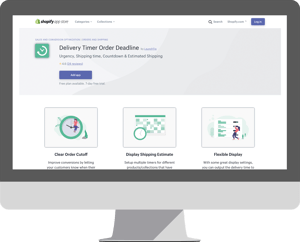 Get your customers to buy today rather than tomorrow
Create urgency at your shop and make sure more completed orders.
You have probably seen something similar before in popular stores. These are "Order within the next 3 hours, 27 minutes to be delivered the same day" or "Order within the next 3 hours, 27 minutes for an estimated delivery no later than Wednesday 12 July".
The Delivery Timer Order Deadline app gives you just that opportunity, and then you can follow in the same footsteps as the big webshops. Delivery Timer Order Deadline makes sure to tell your visitors about the next possible delivery time if they order right now and here.
Many visitors are doubtful about when their order will arrive if they order immediately. And that can mean they completely drop ordering. With the app, you therefore motivate your customers to act immediately.
For who cares to wait too long for his order?
Selected features:
View a custom countdown
Show estimated delivery date
Create "urgency" and thereby achieve increased sales
Create and determine the rules for the countdown
Hide if necessary. the countdown to specific products or collections
Show countdown in the top bar (requires customization)
Installation and setup are thankfully pretty straightforward.
App 9 - Flair Product Badges & Banners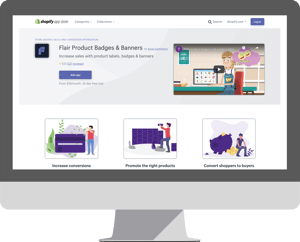 Make selected products visible with FOMO
Do you want to create extra noise about individual products, categories or offers?
Flair Product Badges & Banners do just that for you. With the app, it is easy to market certain products or campaigns, which your visitors will therefore pay extra attention to.
The brands can ensure that your customers know everything about your great offers, bestsellers, new arrivals, etc. without having to click on all the products. That way, your customers will not miss anything, and you are sure that your message will get through. It will make your campaigns more successful and ultimately mean higher revenue. What's not to like?
Why is it smart? Scarcity is a very effective marketing technique, as it is the few who want to miss, for example, a really good offer, which may never come again. We call it FOMO (Fear Of Missing Out).
You can:
Create new Arrivals brands
Create holiday brands
Create retail brands
Create limited number brands
Create deal of the day brands
Create very few stock brands
Create back in stock tags
Do not create in stock tags
Create pre-order here tags
Create save X number percent marks
Create Black Friday- el. Cyber ​​Monday badges
App 10 - Sleeknote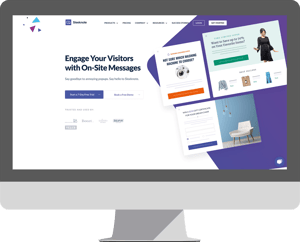 Build a loyal customer database with inspiring pop-ups
We all know them. Some find them annoying, but they work! Pop-ups!
And it does not matter if you use them for lead generation by collecting email addresses or you just want to guide your visitors safely around your shop. And it is precisely this service that gives your visitors a personal experience that will strengthen their loyalty to your shop
And as you know, loyal visitors lead to good paying customers.
Sleeknote has everything you need with pop-ups to create a unique customer database based on, for example, previous visitors, previous customers, sign-ups, competitions and much more. That way, you can inspire visitors via just the right pop-ups, on the right pages, at the right times, and with various Call-To-Action buttons.
For no one deserves to be shown an ugly campaign at the wrong time with irrelevant content.
With Sleeknote you can choose from many different templates, and subsequently you can customize and fine-tune them to your own liking. For example, you can use eye-catching images, fonts and colors that work for your shop. It's all about maintaining the look and feel of your website.
Selected features:
Custom templates
Call-To-Action buttons
Smart triggers
Effective segmentations
Design your own customer journey
Personal experiences
Multistep campaigns
BONUS 1 - Smile Rewards & Loyalty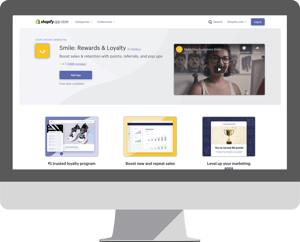 Reward your new and current customers
Be sure to pamper your customers - even those who are already loyal!
Start a points, referral or VIP system for both current and new customers all on one platform just using Smile. This is an app that easily lets you start a stylish and customized reward program with just a few clicks.
It can work in several ways. For example, let your paying customers earn points on a customer account for their actions. It could be that they have placed an order, they have to celebrate a birthday, they follow on social media, they give a review or… You decide for yourself how many points each action should trigger just as well as you can send out e- emails to those who have created a customer account.
With Smile you can also use the word-of-mouth method. With it, you encourage your customers to refer an acquaintance to your webshop using a personalized link through eg pop-ups or e-mails.
And of course, an analysis part is included, so you can always monitor your actions.
Selected features:
Keep everything together on one platform
Earn points based on actions
Take advantage of a custom scoring system
Build a database of loyal customers
Use the word-of-mouth method
Monitor all actions
BONUS 2 - Reconvert Upsell & Cross sell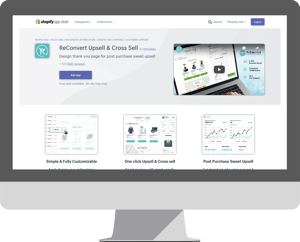 Provide additional sales
Maybe you struggle with your opening rate in your newsletters?
So just consider this; Your Thank-You page has an opening rate of 100%! Wild!
Therefore, your Thank-you page is the perfect page to market on. You can do this, for example, in the form of sales or extra purchases for already paying customers. There is great value in additional sales. And that's exactly why the app, Reconvert Upsell & Cross sell, focuses solely on that on your Thank-You page.
Reconvert Upsell & Cross sell allows you to customize your Thank-You page exactly as you wish. This is done simply via a drag-and-drop function. However, to get started quickly and easily, you can also choose from a wide variety of templates.
Of course, you will also find an analysis section, which gives you the full overview of CVR, CTR, visitors, the best-selling products and much more. Therefore, you have control over your own Thank-You page.
Selected features:
Trigger on the Thank-You page
Sale pop-ups with countdown
Product recommendations
Reorder buttons
Inserting videos, photos, etc.
Possibility of social sharing
Analysis of all data on your Thank-You page
The different app types
In Shopify's App Store you will find three different app types:
Public apps
Custom apps
Private apps
The public apps cover those listed in Shopify's App Store. This means that these are the ones you can install on your webshop.
The custom apps can only be installed in one Shopify Webshop, and therefore you will not find them in the App Store.
The private apps are developed exclusively for your Shopify Webshop. It is thus your private apps.
Filling apps in a shop can be quite a sport. However, we recommend that you be careful about how many you choose to install. They help to make your webshop heavier to load, and thus it will also be slower. Therefore, you should rather spend your time and money on a few well-chosen apps that attribute value to your webshop instead of the small, free features that do not have the big effect on the bottom line.
All apps are paid either through a monthly fee, a one-time fee or a fee for each time you use it. Most apps offer a free basic subscription or a free trial period, and therefore you can freely test the various apps before investing in them.
And let us help you along the way. We have gathered the 10 best apps. You can read about them below.
How to find the right apps for your webshop
When there is such a large selection of different functionalities that you can add to your Shopify Webshop, it can be difficult to choose which ones to try and invest in. Therefore, there are a few well-chosen questions that you should start with. ask yourself:
What does my webshop need?
What will increase my sales?
How does it become easier to manage my webshop?
How much money will I spend?
The apps you need to integrate into your webshop are the ones that can answer the questions.
You can easily find the various apps in Shopify's App Store. You can search for eg function or name via the search field, and you can segment them by category. It can be SEO, for example.
Once you have found an exciting app, you can see how others have reacted to it. You can read app reviews and look at the overall star rating. It gives you a good overview of efficiency.
But be careful!
Just because an app works in one webshop, it does not necessarily work in you and vice versa. Often it depends on the interaction between the different apps and the chosen theme, the industry you are in and the general design and expression you choose to express your vision for your webshop.