There are 4500+ themes for Shopify and as a Partner and one of five Shopify Experts in Denmark, we have worked with more than 450 of these.
There are many good themes, but unfortunately also some less good ones.
We have found the best
At Shopify, a theme is a template that determines how your webshop looks and works. Different themes therefore have different styles and layouts, and therefore of course they also give your customers different experiences.
And while it may seem a bit exaggerated to spend several hours picking the right theme, imagine a webshop selling spa products. Here, the feeling should be calm and relaxed, while it should be more energetic if electronics are sold.
So you need to choose a theme or customize a theme that defines the basic look and functionality you want for your webshop.
Of course, you can also customize your theme settings so that you can get, for example, the content, the layout, the style, the language and the colors that match your vision. And should it happen that there is no setting for the change you want, you can change the theme code - here, however, it is a good idea to have knowledge of, among other things. HTML and CSS.
And we can help you with that!
To make it more manageable, you will find below our bid on the 10 best Shopify Themes.
Theme 1: Prestige
Prestige…
The name says it all.
This is a theme that is specially designed for high-end brands, which intends to express exclusivity.
Prestige gives you a wide range of features. Among other things, you can use the built-in timeline tool, which can tell your story about your brand. Or you can optimize large images in high resolution across your entire shop.
The menu lists in the theme are user-friendly, and you can therefore easily navigate around - even if you create larger catalogs.
You also have the option of designing your checkout process. For example, try a "slide-out cart" that allows your potential customers to see their shopping cart without having to leave the page they are on.
In addition to the technical possibilities with Prestige, the theme also offers a fantastic and fast support department, where even the smallest problems will be solved for you.
In short:
Custom settings for the website
Mobile friendly design
Search Engine Optimization (SEO)
You get a higher opening rate because your automated emails are relevant
Slide-Out Cart
Built-in styles and different color combinations
Optimized for large images
Who uses the theme?
Theme 2: Impulse
Be creative, be impulsive!
With Impulse, you get a modern Shopify theme that i.a. allows you to display different, customized ads across your entire shop. You can choose from three variations; Modern, Clean and Bold.
All three variations can be exploited via the corresponding video section. This means you can easily add visuals to capture the attention of your potential customers.
Once you have their attention, you can retain them, for example, by implementing the 'campaign' content. With it you can create customized and promotional discounts, coupons, etc. for example on collection pages.
Impulse also comes with an excellent filter, which allows your visitors to quickly browse and filter between all your products. It is a good service that reduces their search time and thus also their irritation, and therefore will want to stay longer at your shop.
In short:
More videos on the front page
Custom filtering options
Custom sales ads on various pages
Mobile friendly
Easy to navigate large catalogs
Choose from three variations: Modern, Clean and Bold
Who uses the theme?
Theme 3: Warehouse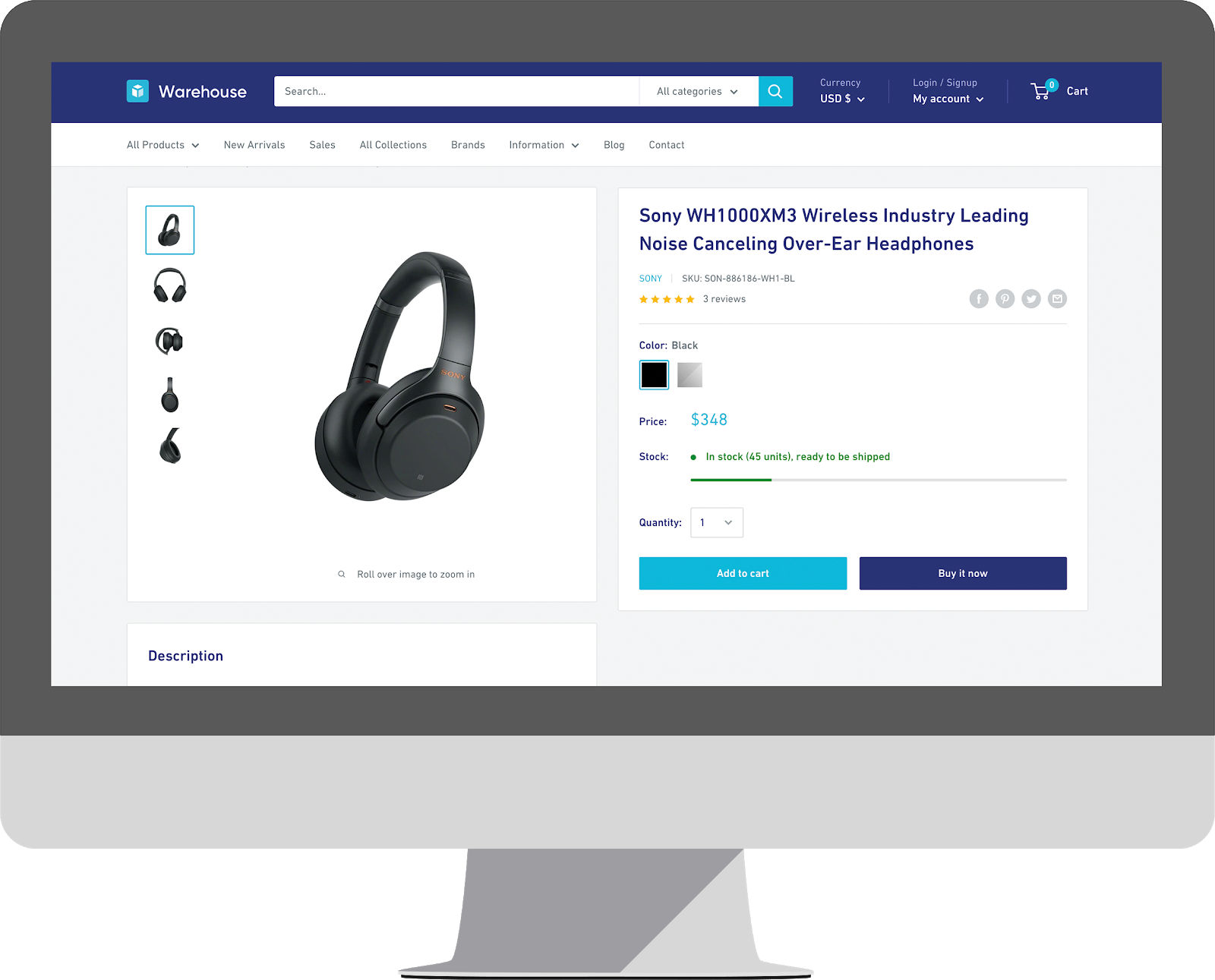 Do you offer a large inventory? And do you want to ensure a clear webshop design?
Then take a look at the Shopify theme, Warehouse.
Warehouse is a nice theme with a simple design that you can easily apply to your Shopify eCommerce store. the theme is built to handle large catalogs, and therefore provides an easy user interface that anyone can navigate around.
If additional service is needed, and you want to be sure that you take your potential customers by the hand, Warehouse also has a built-in live search box. It gives fast results in your products and on your pages - and it doesn't matter how big a catalog it is.
When a customer has to complete a payment, trust badges will be displayed. It is the security that personal information is handled correctly.
Warehouse also offers a custom Exit Pop-up, which encourages your customers to sign up for your newsletter just before they leave your page.
In short:
Built to handle large catalogs
View live search results and quick links to your products and pages
Emblems of trust regarding security and payment
Custom Exit Pop-up
Stock level indicator
Custom sale ads on collection pages
Theme 4: Streamline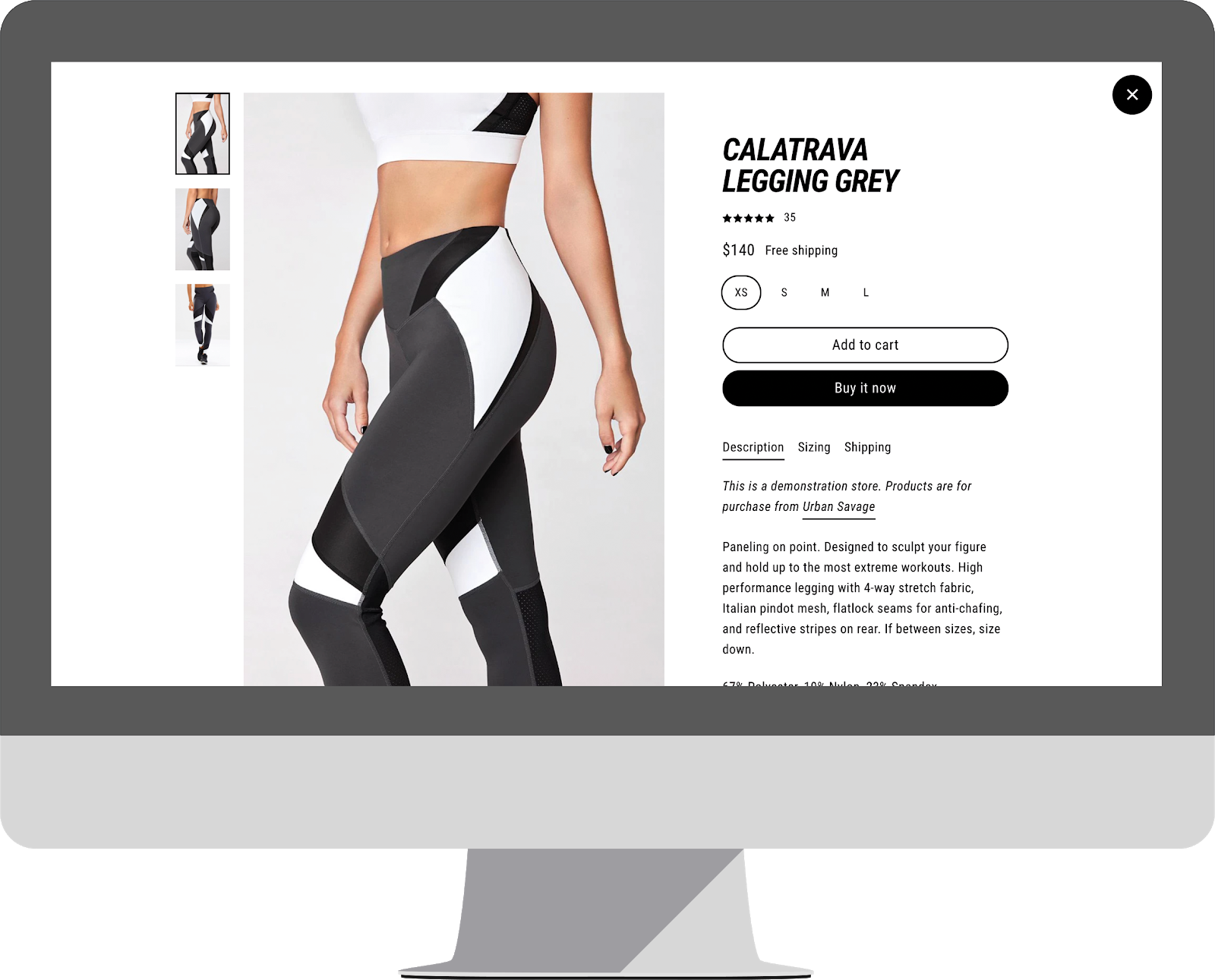 And that is exactly why every Shopify Webshop must have a good theme that not only manages to attract but also retain online customers. This is something that the Shopify theme, Streamline, can help with.
With Streamline, it is possible for you to create narrative product pages that can inspire future customers. You can animate your content so that it stands out from your competitors, for example with more texts, images and animations across all platforms.
The theme also comes with an advanced product filtering. It allows your potential customers to filter by products, brands, types, colors or sizes. Subsequently, the product pages can be quickly loaded in advance for shopping - completely without leaving the page.
The theme is also extremely mobile-friendly, which is especially an advantage in the fashion world, where a trend is rapid change. Therefore, there are already buttons on the products that make it possible to complete an order. This means that the whole step of putting in a basket can be skipped, so that the shopping experience becomes shorter and better for the customer. That's great service!
In short:
Narrative product pages
Mobile friendly design
Advanced product filtering
Quick checkout
Animated content according to your needs
Quickly load product pages
Who uses the theme?
Theme 5: Start-up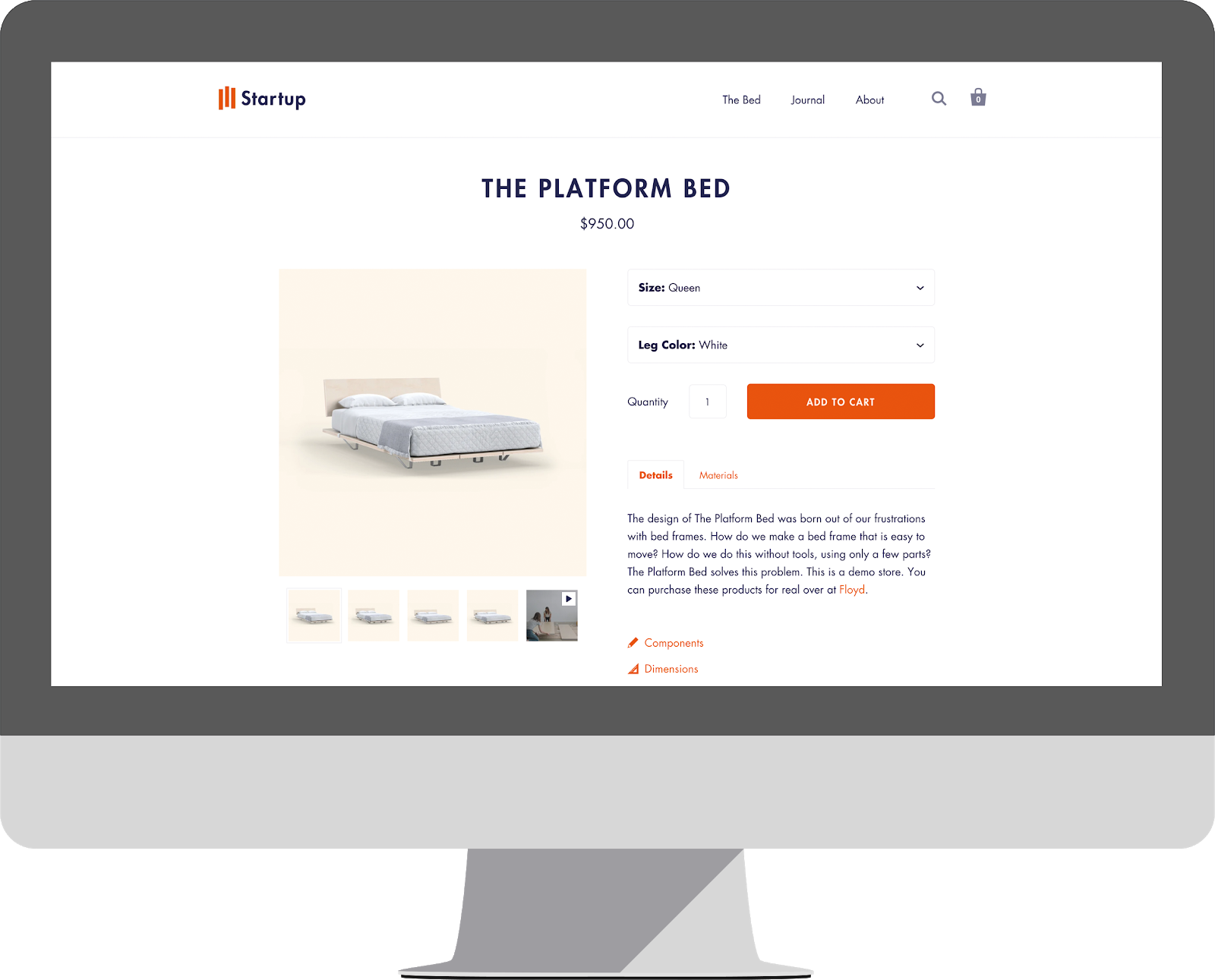 Fashion requires inspiration and not least passion.
Do you want to start small, but do you dream big?
The Shopify theme, Startup, is built for you who have a small or newly started shop with single products and small catalogs, but it offers good opportunities to scale as your business grows.
You can choose from four varieties; Home, Tech, Cloth and Travel. All variants have different color combinations, styles and much more. And therefore they also give each one different sensations. You need to choose the variant that stylistically best matches your message.
Startup allows you to view your product images in high resolution with a full-width layout. Therefore, when your potential customers need to be persuaded to make a purchase with you, you can market your products by sharing other customers' comments and reviews directly on the pages. Should there be more questions, you can always share your very own FAQ page. It is already integrated into the theme.
The theme also offers SEO optimization, browser compatibility, a live Instagram feed, etc.
In short:
Optimized for single-product shops
Website in modular style
Customer testimonials
Wide layout
FAQ landing page
Integrated video function
Who uses the theme?
Theme 6: Flow
If you stand out from your competitors, be unique in your shop design.
This is something the Shopify theme, flow, can provide. This is a sharp and minimalist design that puts your products at the center. the theme consists of three variants; Queenstown, Byron, Cannes. And common to them all is that they are designed with an ultra-modern look that caters to and compliments a very specific type of shopper.
When you want to get the most out of your front page by presenting different types of content in a nice design, Flow is therefore a good option. After all, it is only you who sets the limit for the front page.
Flow also offers unique product pages that highlight individual products when you place yourself over them with your finger or cursor. And the option of a slide-out basket allows your potential customers to easily add their products to the shopping cart without leaving their current page.
The theme is therefore perfect for you who want to sell special products via a stylish design adapted to both desktop and mobile.
In short:
Unique product pages
Slide-Out basket
Website videos
Sidebar for collection pages
Promotional ads
Custom front page
Who uses the theme?
Theme 7: Motion
If you love graphic elements then you will love the Shopify theme, Motion.
Exercise is designed and supported by Archetype themes, which are particularly suitable for clothing and fashion. the theme can namely via its many graphic elements such as i.a. animations and videos bring your brand to life and provide the inspiration that is often needed in the fashion world.
The theme is offered in three different styles; Classic, Elegant and Minimal.
Exercise is designed to accommodate delicious animations with smooth and elegant movements that can help you tell your brand's story via visual storytelling. You will therefore be able to capture the attention of your potential customers and convey the right message through images, movements and thus also emotions.
With this theme you also get the Quickshop function. With it, your customers can see product information on a given item in a pop-up, so they do not have to leave their current page to get the information they need.
In short:
Animated content
Visual Storytelling
More homepage videos
Fast product display
Fast product filtering
Simply selected product
Who uses the theme?
Theme 8: Blockshop
"WOW!"
Is this exactly the reaction you dream of when visitors access your shop?
Then you should take a look at Blockshop.
With the Premium Shopify theme, Blockshop, you get a design that is perfect for established companies, start-ups, stores and independent artists. It provides a visual WOW effect with its wide photo banner that give your visitors a great first time experience.
the theme quickly shows the most popular items. And in conjunction with them are various buttons that are intended to influence the visitors to add additional products to their shopping cart.
Additionally, you can choose to use a slideshow in your header to guide in on a specific landing page. The theme therefore also gives you the option of a wide layout as well as a menu with several bars that help your customers easily navigate your online shop.
To create additional 'WOW effect', Blockshop also offers a pop-up that encourages potential customers to sign up for your newsletter, for example in exchange for promotions, discount codes, etc. This tactic has become especially popular, as it benefits both you and your customers. Win-Win.
BlockShop has four styles: Deli, Beauty, Playhouse and Moto.
In short:
Slideshow in header
Website videos
More slide shows on the website
Menu with several bars
Wide layout
Marketing pop-up
Who uses the theme?
Theme 9: Venue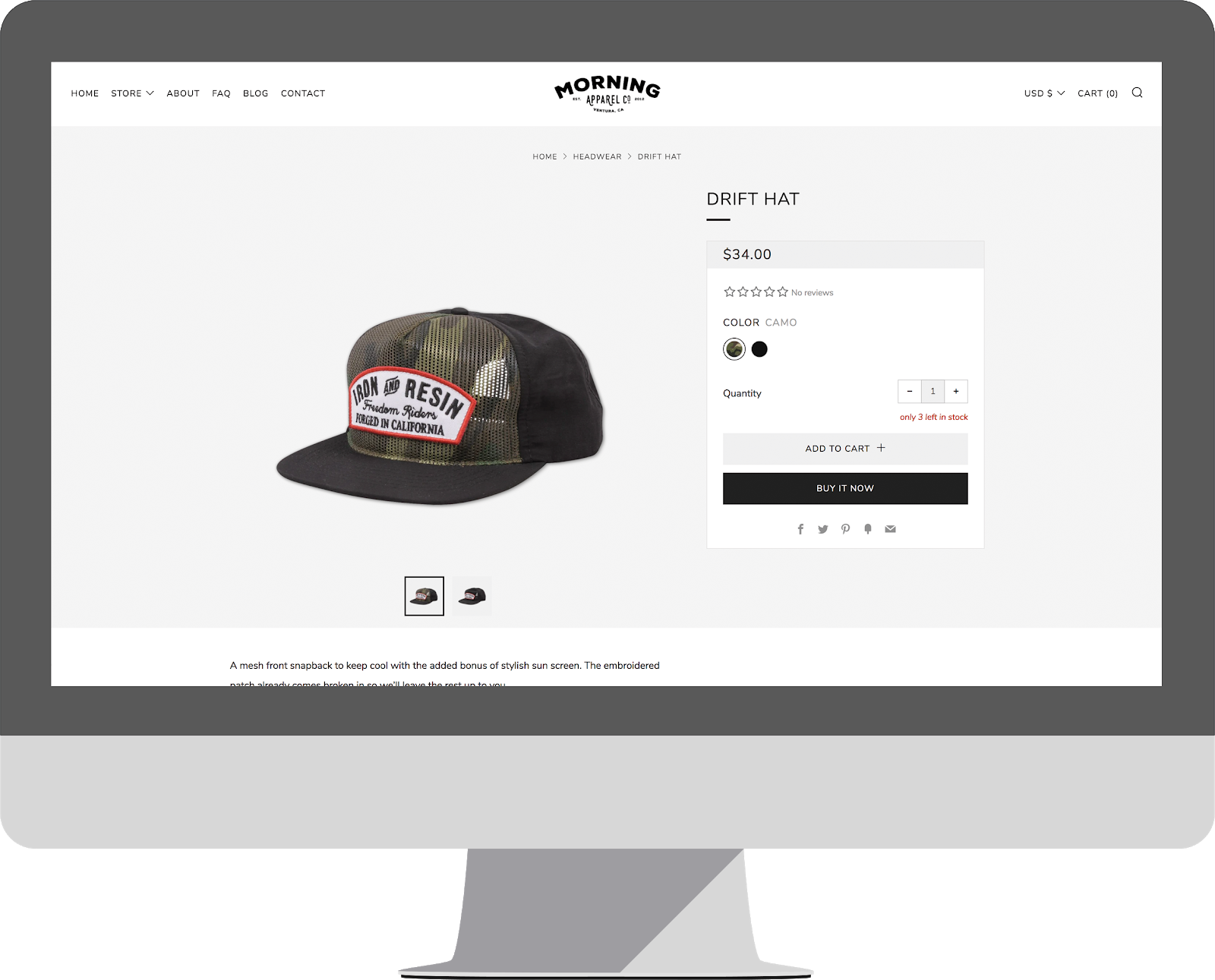 When you want to secure the common thread in your business, choose the Shopify theme, Venue. Venue has three different varieties: Morning, Evening and Weekend. Common to them all is that they ensure you a website that looks great.
When you want to find a theme that makes it easy for you to be spontaneous and change the look of your shop with just a few clicks, so you can link your store's changeable look with your webshop, then Venue is good for you. With Venue you can create an integration with your physical store. And it does not matter if you have an existing online store that needs an update or you would like to launch a new store with a theme that can be easily transformed.
If you hold many events in your store, you can also add upcoming dates and event information to your website.
One of the theme's other cool features is a pop-up with a focus on age. It makes it easy for you to confirm the age of your visitors and thus give them various benefits when it is, for example, their birthday.
In short:
Pop-up with a focus on age
Video gallery
Integration to physical stores
Product with a single function
Section on dates and events
Menu with several bars
Who uses the theme?
Theme 10: Empire
Do you own an entire empire? And do you therefore have so many different products that you sometimes find it difficult to keep track of them yourself? Then you should choose Shopify's theme, Empire.
Empire has an Amazon style that has just been built for large catalogs and thus for stores with a huge assortment. However, the theme still ensures clarity and ease of use. You can build your empire with a robust and recognizable store, you can use the very precise search to show live search results, and you can get quick links to products and collection pages.
With Empire, you can also enable your customers to filter products by type and sort by best-selling products and cheapest price. How smart!
Once visitors have found their products, they can quickly add them to their shopping cart without leaving the current page. It gives them a simpler experience on your side.
In short:
Predictable search
Built for large catalogs
Product filtering
Website menu with lists
Custom promotional ads
Short shopping experience
Who uses the theme?
How to choose the right theme
Shopify's theme store thus contains a wide range of different themes. Some of them are free, and others you have to pay for - for example, if they have been developed by a third-party designer.
When you want to make sure that you choose the right theme for your webshop, you should first and foremost focus on the features that you do not want to do without. You can use the search field and for example search for 'Page with frequently asked questions'. Then you will see a page with all the themes that contains a 'Frequently Asked Questions Page'.
You can search more specifically by segmenting and refining your search results using the filters.
You can also sort by industry to see the themes that are primarily used within, for example, the fashion industry.
If after a while you find out that you have chosen the wrong theme anyway, you can add a new one to your Shopify administrator. This means that you can add more themes to your account, trying out new themes, maintaining seasonal versions of your current theme, or testing changes to your theme.
The number of themes you can add to your account depends on your subscription. For example, you can have up to 20 themes associated with a Shopify subscription.
And there is no need to fear deleting a theme. You can easily manage your various themes. This means you can switch between those that are live in your webshop, you can make backups that you want to customize, and you can remove a theme that is no longer in use.