Your customers have purchased a product and they love it! Why not get them to buy the same product if necessary. in a different color?

What does that even mean?
A variant of your Shopify shop can be several things. For example, it can cover size, color, style, material, surface, weight and many other things, as of course it depends on what you sell.
Let us take an example where we take as our starting point the variant, size. Below you have various options such as extra small, small, medium, large and extra large - these are the most natural choices.
Keep in mind, however, that the price can also vary on the different variants. It could be, for example, that you use a more expensive material for one variant, or that another variant requires more handling.
In short, it's about what you sell on your website and what opportunities you give your customers to buy.
Why is it so important?
Often your customers have neither the time nor the inclination to search your website thin to find the product they are looking for, which may just be an item they already have but now want in a different color (variant).
Therefore, it is important that you make it clear to them what other colors the product can be found in with just a single click.
It provides a much better experience for your customers - and luckily it's quite easy.
Just make use of color swatches on all the products you offer in different colors. This means that you as a customer just have to click on one color, and then you will be presented with all the other colors as well.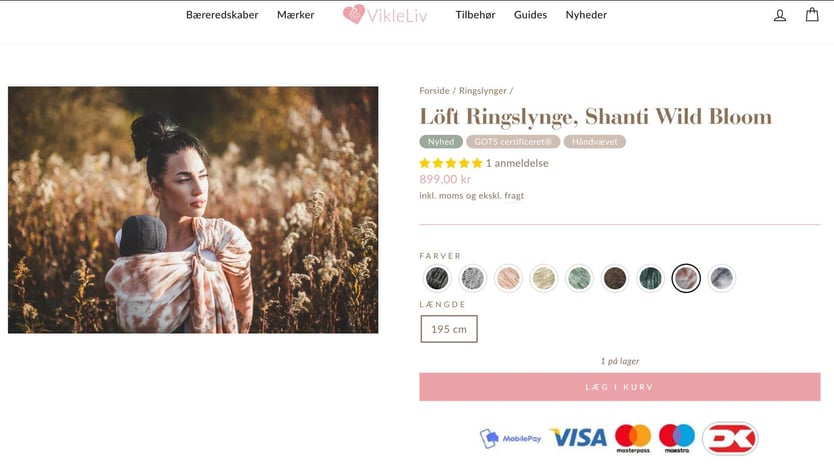 Let's just take an example.
One of your customers is in the process of buying a white apron, which i.a. used for cooking. You also sell the same apron in black, and because it is a more practical color in the kitchen, it may be more relevant to the customer. But because the customer has not checked your entire selection, he / she is not at all aware that the apron is available in black.
Therefore, you should show both the white and the black apron in front of the customer, whatever color he / she clicks on.
That's a great service! But that is not enough.
Let's assume that the customer loves the white apron, but would like more to choose from. Thus, there is also one that can be used when the white is for washing or when the children need to be in the kitchen. Therefore, you should also show off the black apron, as this may mean that the customer chooses to buy both variants.
And for you, it means a higher order value.
If this sounds like something you should make use of, then you should also know that color swatches can appear in different ways.
Of course, you can choose to go for a pantone color if your product is solid color. If, on the other hand, it has a pattern, you can make your own color swatches, or you can show the whole product in the different variants. That solution uses Zalando, which you can see a little further down.
To provide color swatches on your website, you can use the app, Product Colors. You can watch a presentation video of it on Youtube here:
What should you think about and who is doing well?
You've probably discovered it. Many of the very large online webshops already make use of color swatches to varying degrees.
This is because they have a large selection of products, and each of these they often also have in different varieties. They therefore use not only color swatches to provide good service and increase their order value, but also to make their product range more manageable for a visitor.
Let's take a look at Zalando, Clothes and Beracamy and see how they use color swatches.
If we start with Zalando, we can see that they choose to show the whole product in the different variants. If you move the mouse over the different variants, the image is enlarged, and it is therefore not just a matter of pantone colors.
It gives a good visual insight into the shirt from Adidas.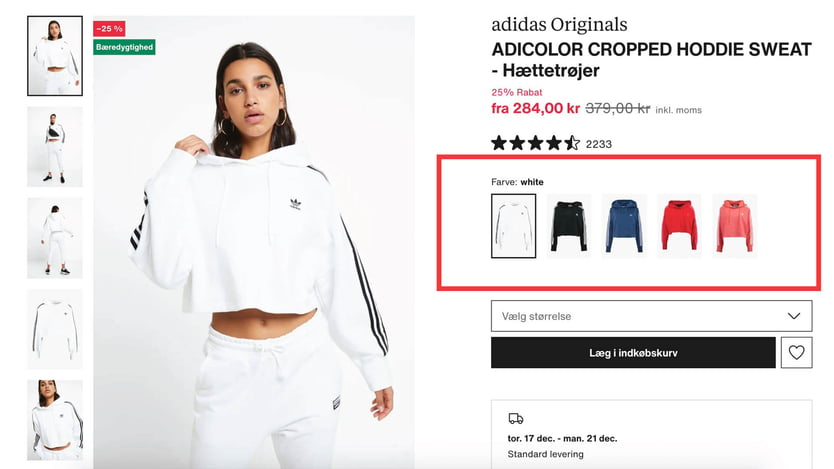 Boozt uses the same method as Zalando, but also uses it at the collection level. This means that the visitor already on the search page is told that a product is available in different variants - and it also provides a good overview.
Boozt chooses to use small color swatches on their collection pages, as there is no space in the layout to display larger images.
Unlike both Zalando and Boozt, Beracamy has chosen to make their own color swatches, as all bags have different patterns. It gives a good idea of ​​the material and appearance, even before you choose to click on the individual variant.
If only it was a pantone color, color swatches could seem misleading - it is often the small things that make the big difference.
With all that said, color swatches can be used in different forms - most importantly, you present your products in the best possible way, so your customers get the clearest insight into what they look like. Your customers must be in doubt about what they are actually ordering.
In addition, the option of color swatches should always be readily available so that it is actually used as well and can earn for you.
I hope I have inspired you to take a look at your color swatches on your website.
Do you have any questions? Then feel free to contact me by either email or phone.