Do you have an e-commerce website built on Magento 2, and did you like others hear about the frontend, Hyvä? Below, you will find an overview of the differences, advantages, and disadvantages of both the new Hyvä template and the well-known Luma template.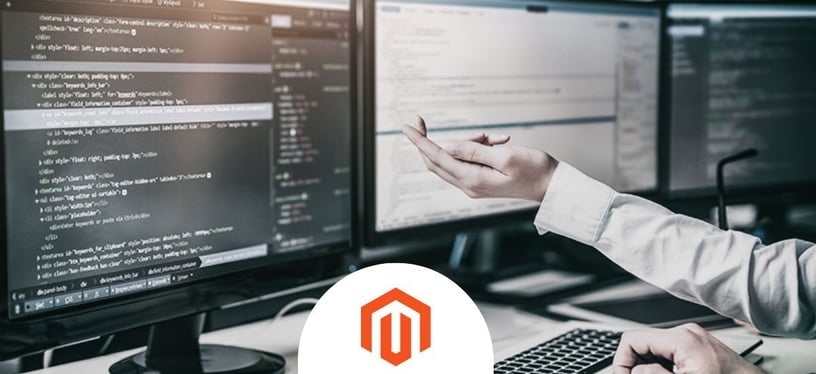 Magento is a popular e-commerce platform that ensures that website owners have the full control over both the layout, content, and functionality of their shop, while also providing a flexible purchasing system with user-friendly flows. Additionally, Magento offers powerful tools and integrations to both marketing, search engine optimization (SEO), and catalog management.
Magento was introduced in 2008 as an open-source platform written in PHP, and since then, several online store owners have chosen to run their businesses on the platform. In 2020, Magento was one of the platforms that most stores chose to migrate to. And in 2021, Magento was also recognized as one of the top ten leading e-commerce platforms.
Magento Open Souce or Adobe Commerce?



Today, the paid version of Magento is available under the name Adobe Commerce.
In 2018, Adobe acquired Magento Commerce as a natural addition to their already extensive range of cloud services.
Magento Open Source is still distributed for free, while Adobe Commerce is a paid version that comes with a wide range of integrated features and functionalities by default. Some of these features must be built manually in the free version - Magento Open Source.
The price of Adobe Commerce depends on several factors, such as the size of the solution and your expected annual turnover.
As the world's leading e-commerce platform, Magento has now become 'Adobe Commerce' with great success. It is a solid and scalable foundation that is highly flexible.
If you dream of a professional webshop that ensures a bright future, this version is the ideal choice. You will experience a responsive web experience, good payment options, a secure checkout flow, shipping options, and much more. Furthermore, with Adobe Commerce, you can enjoy additional features such as advanced cloud functions and a B2B package with a Customer Portal and the ability to create saved shopping lists.
What is the difference between Luma og Hyvä?
When building your webshop on Adobe Commerce, you can choose from different templates, including Luma or Hyvä.


In 2015, Magento (now Adobe Commerce) launched Luma, which since has been the default frontend. However, Luma has been heavily criticized by developers who work with Magento. Luma is too slow, too complex to work with, and too demanding even for the smallest design adjustments on a shop.
Therefore, Skilled developers from the Magento Community collaborated and created Hyvä - a new template that can be used as a frontend for your Magento 2 shop. Hyvä is a template built from scratch and based on the latest technologies, making it future-proof. It is not too complex to work with, and with Hyvä, you can experience features and options that enable Magento to meet the expectations for a professional webshop, such as fulfilling Google's requirements for Core Web Vitals, including performance, speed, flexibility, and customization options.
You can read more about Hyvä here.
Of course, Luma still has its merits, and several users are pleased with the template.
However, Luma uses many and large JavaScript libraries - and that tends to lead to slower load times. The template can be optimized to meet the high expectations including speed and performance.
Benefits of Luma
Luma is already an integrated part of Magento, and it is the frontend you first encounter. It is also a template you can use without the need for additional payment.
And to experience both increased speed and better performance, you have the opportunity to optimize Luma - especially when it comes to mobile devices.
Therefore, Luma is still widely used, and it will likely be well into the future. Especially since many well-functioning e-commerce businesses have established a business on Luma templates.
There are thus several benefits of Luma. Here are the 5 most significant:
Professional appearance: Luma has a professional and modern design that provides a good base that can be built upon when you want to create a beautiful webshop.


Responsive design: The Luma template is responsive. This means that it adapts to different devices and screen sizes. Therefore, you are ensured a good user experience across different devices.


Built-in support for Magento features: Luma is designed specifically for Magento, and therefore the theme has integrated the necessary support for many of the most essential Magento features. This makes it easier for you to set up a webshop.


Easy to customize: Luma is relatively easy to customize, and there are many options for changing, for example, colors, fonts, layouts, and much more.


Free: The Luma theme is free to use, and it comes automatically with the Magento software download. It is, therefore, a good opportunity, especially for smaller businesses that want a cheaper way to set up a webshop.
Disadvantages of Luma
Luma has often been criticized for not functioning as smoothly as desired.
Speed, in particular, has been a problem. Luma uses many heavy JavaScript libraries, and the use of all this extra code often results in slower load times. The simpler, the better - and that's precisely the thinking behind Hyvä.
Today, many people prefer to make purchases on their mobile devices, and this is where slower speeds become apparent. In our modern times, Luma can therefore be a hindrance to further conversions. As a result, the performance level with Luma is lower than the high expectations that many online store owners have today.
Therefore, there are several disadvantages to Luma. Here are the 5 most significant:
Widely used: Luma is a default theme in Magento and is automatically delivered with the Magento software. This means that it is used by many other online stores, making it difficult to differentiate yourself from a layout perspective.


Crowded codebase: The Luma theme has a crowded codebase, which can make it difficult for you to customize the theme and change the design when you want further changes beyond just font and color.


Limited options: Although it is possible to customize Luma, there are limited options to change the actual design. In many ways, this has already been determined.


High server requirements: The Luma template can be heavy and requires a powerful server to ensure that your online store is functioning and running optimally. If your server is not powerful enough, it can result in slower load times and poor performance.


Not suitable for all types of online stores: Luma is best suited for small and medium-sized online stores. If you run a larger online store, it may be necessary to choose a more advanced and customized theme to achieve your desired results.
Benefits of

Hyvä
Hyvä is built from scratch on Alpine JS and Tailwind CSS, with all unnecessary code removed, meaning it doesn't affect a webshop's performance. This means that Hyvä reduces complexity while remaining developer-friendly, and it has already won many hearts among Magento 2 users.
Hyvä lives up to expectations of performance, speed, flexibility, and customization options. It comprises a collection of modules and themes based on the modern technology, Hyvä UI, developed for webshop owners who want to customize their professional Magento webshop.
And the template is designed with a mobile-first focus, optimized for smaller screens and devices.
Therefore, there are several benefits to using Hyvä. Here are the five most significant:
Flexibility: Hyvä ensures greater flexibility and control over your webshop's design and functionality, allowing you to customize and change almost any part of the theme without writing code.


Faster load times: Hyvä is optimized, resulting in faster load times than various standard Magento themes, which can lead to better user experiences and higher conversion rates.


Responsive design: Hyvä is designed with mobile devices in mind, so the template is fully responsive, ensuring a good user experience on all devices.


Integration with Magento: Hyvä is specially designed for Magento, meaning it works seamlessly with Magento functions and plugins, and you can easily integrate it with various third-party tools.


Support and updates: Hyvä is part of an active Magento community, providing ongoing support and regular updates. This ensures that you always have access to the latest features and security updates.
Disadvantages of

Hyvä
As this is not a standard template, you will need to purchase and integrate it into your webshop. To take advantage of the features of Hyvä, it is therefore necessary to budget for an extra expense.
In addition, Hyvä is not nearly as tested and tried as Luma. And the number of users is still much lower on Hyvä than on Luma, so you will not experience a community as large on this template. This could mean longer wait times for support.
There are several disadvantages to Hyvä. Here are the 5 most significant:
Cost: The Hyvä theme is not free, and in fact, it may cost more than other Magento themes on the market.


Complexity: Hyvä is more complex than other standard Magento themes. Therefore, you should allocate more time and resources when customizing and modifying the theme.


Longer learning time: Since the Hyvä template offers greater flexibility and therefore more options than standard Magento themes, be prepared for a steeper learning curve - especially if you are not used to working actively with themes in Magento 2.


Customization of third-party modules: Hyvä is more advanced than other standard Magento themes such as Luma, and therefore there may be a need for further customization of third-party modules and plugins that are not specifically designed for the Hyvä theme.
So what is the conclusion?
Both Luma and Hyvä platforms are known to offer a wide range of features and options that help Magento users optimize their webshops. Therefore, it can be difficult to choose which theme to use for your online business - both have their strengths and weaknesses.
Ultimately, your choice should depend on which functionalities and workflows best suit your needs and budget. If you need more advanced features and have a larger budget, Hyvä may be the best choice, while Luma may be a better solution if you are looking for a basic platform that offers good value for less money.
Therefore, carefully consider what you need and want for the future of your webshop. And feel free to contact us if you need advice about Magento or on which template would be the best for you.