It is a slow and complicated process to move products from one Shopify solution to another or from another shop system to Shopify. Why not use an app that can load your products via a simple excel file?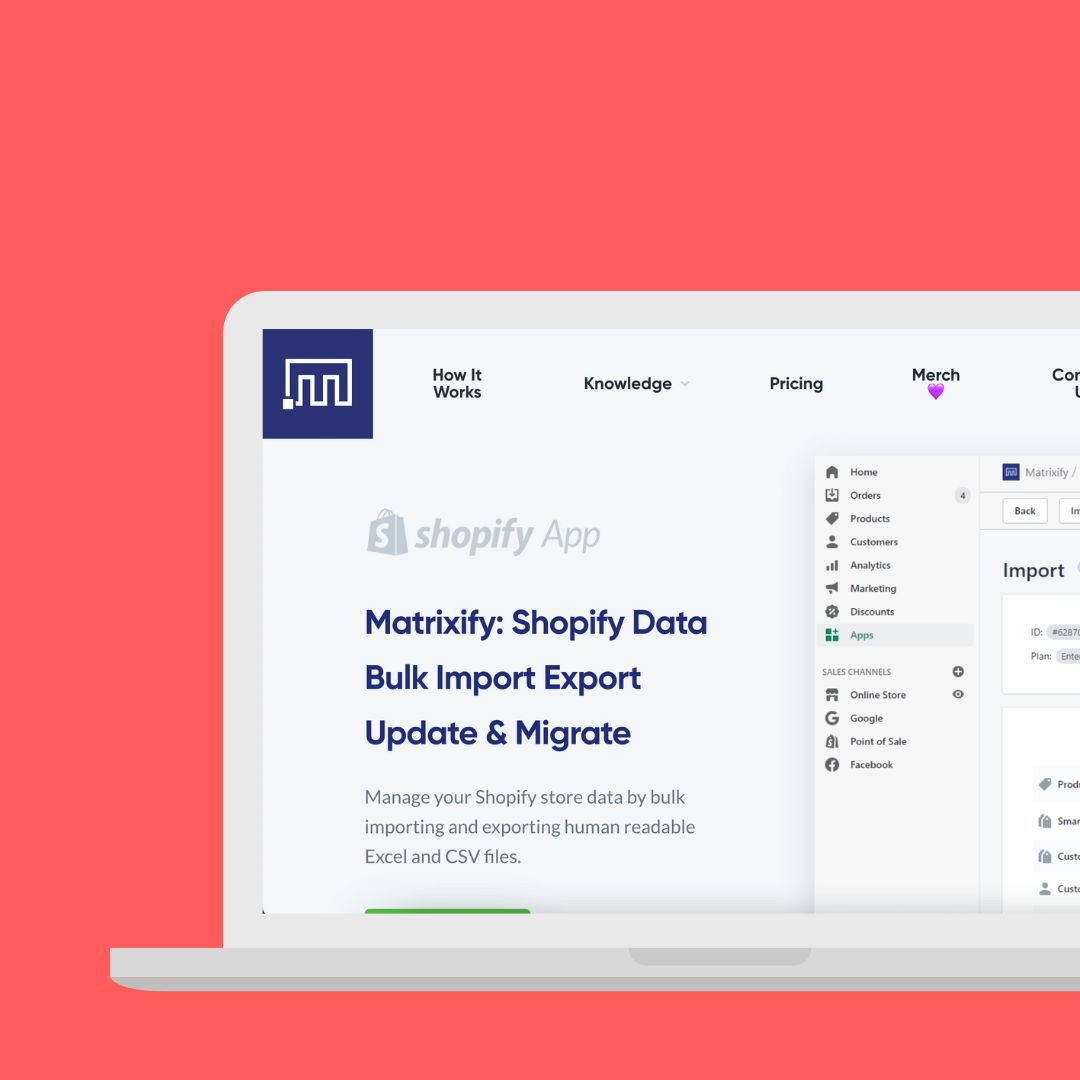 Businesses can develop in different directions, and it may be that right now you are in a situation where you are considering moving your business over to Shopify. The problem is just that you may not know the extent of such a conversion. You might think that you have to create all the products again with the correct product descriptions, stock numbers, SKU numbers, barcode numbers, and much more. Therefore it can feel like an unmanageable task that is difficult to begin.
The manual way is of course always a solution but it is slow and exhausting. Fortunately there are other efficient ways to load you products without having to work around the clock.
Shopify actually has their own module where you can load a simple CSV file that you can download. Here is an example on a CSV file for products that you can use as a template.
When creating a CSV file for products to import new products only the 'Title' and 'Handle' columns are mandatory.
Although only Handle and Title are mandatory data in some columns depends on each other. If you e.g. updates a column that is related to variants such as Variant SKU or Variant Grams data in these columns depends on data around the corresponding variants. In this case you must also include the Option1 Name and Option1 Value columns.
The table below describes the columns that must have a value and the default value that is created automatically if the column is empty.


Column
The default value created when the column is empty
Handle
This value is created from the value in the Title column. If the value in the Title column e.g. is Black Sun Classes the value in this column will be black-sun-glasses.
Vendor
The name of the store as you named it when

creating your Shopify account

. For example John's Apparel or johns-apparel. This is the same store name you use to log into Shopify.
Published
TRUE
This means that this product will be published and made available in the Webshop sales channel.
Option1
Title
Option1 Value
Default Title
Variant Inventory Quantity
0
Variant Inventory Policy

DENY

When the value is deny this indicates that the product cannot be purchased when its stock level reaches zero.

Variant Fulfillment Service
Manual

Variant Price

0.0

Variant Requires Shipping

TRUE

When the value is TRUE this indicates that the product is a physical product.

Variant Taxable

TRUE

Variant Grams

0.0

Variant Weight Unit

kg.

Status

Active
*Here you can read what all other columns mean. Read more here.
What is Matrixify?


If you do not want to do the migration manually or with Shopify CSV there are effective alternatives. Matrixify is one of them.
Matrixify is an app where you can load or update products, collections, customers, discounts, draft order, order, payouts, pages, blogs, redirects, activity, files meta fields, and much more through a completely normal excel sheet.
In this way you can easily migrate all data from your previous e-commerce platform such as Magento, Lightspeed, WordPress/Woocom merce, BigCommerce through Matrixify and into your new og existing Shopify solution.
You will have full control over the columns that you want to load or update. It may be that you only want to update your stock count on all products without having to adjust them manually.
What is the Difference Between Shopify CSV and Matrixify?
Shopify CSV and Matrixify are two different tools you can use when you need to move from one Shopify solution to another or from another shop system to Shopify. Although they have the same purpose they are nevertheless completely different. Here we have collected the 10 biggest differences between Shopify CSV and Matrixify.
CSV Files vs. Standard Excel Files
With Shopify you always work with CSV files and not with standard excel files that you use in Matrixify.

Full Control in Matrixify
When you load an excel sheet from Matrixify you can always follow the process and where it may fail. You will also be able to see an estimated time before your file is loaded. In this way you have full control and the opportunity to find any errors quickly. With Shopify CSV you will simply receive an email when the file has been loaded.


Upload Selected or All Products
With Matrixify you can upload specific columns on selected products. If you e.g. only want to update tags then you do not need images and variants. Conversely, everything will be included in a Shopify CSV export where you always get the full business with all products and fields.


Meta Fields
Matrixify can load Meta fields as a column which is not possible in Shopify CSV. Then you can edit and import them back as updates.


Importing Inventory
With Matrixify you can import the inventory value to multiple locations (if you are using a Multi-Location enabled store).


Publication of Products
You can publish products for the webshop and POS channels and thereby choose whether the product should be for sale on the Web, POS, or both.


The Number of Products
With Shopify CSV you have a limit of 15MB which is roughly no more than 10,000 products (depending on your images/variants) wheras with Matrixify there is a 2GB Excel limit you can upload which for the Excel file is much more than you could ever need. You will e.g. could load +600,000 products in one import.


Handling Images
When you use Shopify CSV and want to import multiple images per product you must copy rows and paste the image into each row. While with Matrixify you can place all images in one row in the "Image Src" column and separate the images with semicolons.


Variants
When using Matrixify you can generate variants from options, combinations, divided by ; (semicolon).
From Which Platforms Can Matrixify Migrate Data to Shopify?


Converting from one platform to another can be extremely complicated and frustration. That is why Matrixify provides the best solutions for Shopify.
Each platform below is unique in its own way and requires extensive app development. That is why Matrixify has created a unique guide for how to make a conversion.
Lightspeed
BigCommerce
Wordpress
WooCommerce
You can read their instructions right here.
Matrixify has led the way for you so you can migrate data all by yourself. With a step-by-step guide Matrixify makes the complicated work easy for you. Regardless of whether you want to handle the process yourself or have help from your Shopify developer you are guaranteed to save the time and money that you would otherwise have spent on the manual processes.