HubSpot is a CRM platform that can manage everything from marketing, sales, reports, and service. And precisely under Service you can create a Knowledge Base which can have many advantages for your business. We show you how to get started.
Let us start with a brief description of what the HubSpot Knowledge Base actually is and how it can be used. Access to HubSpot's Knowledge Base requires a Service Hub Professional.
A Knowledge Base in HubSpot acts as your customers' database where they can easily find all the information they are looking for. In this way it can also be your tool to minimize the time you spend answering many of the same questions. And instead you can use the time sensibly elsewhere in your business.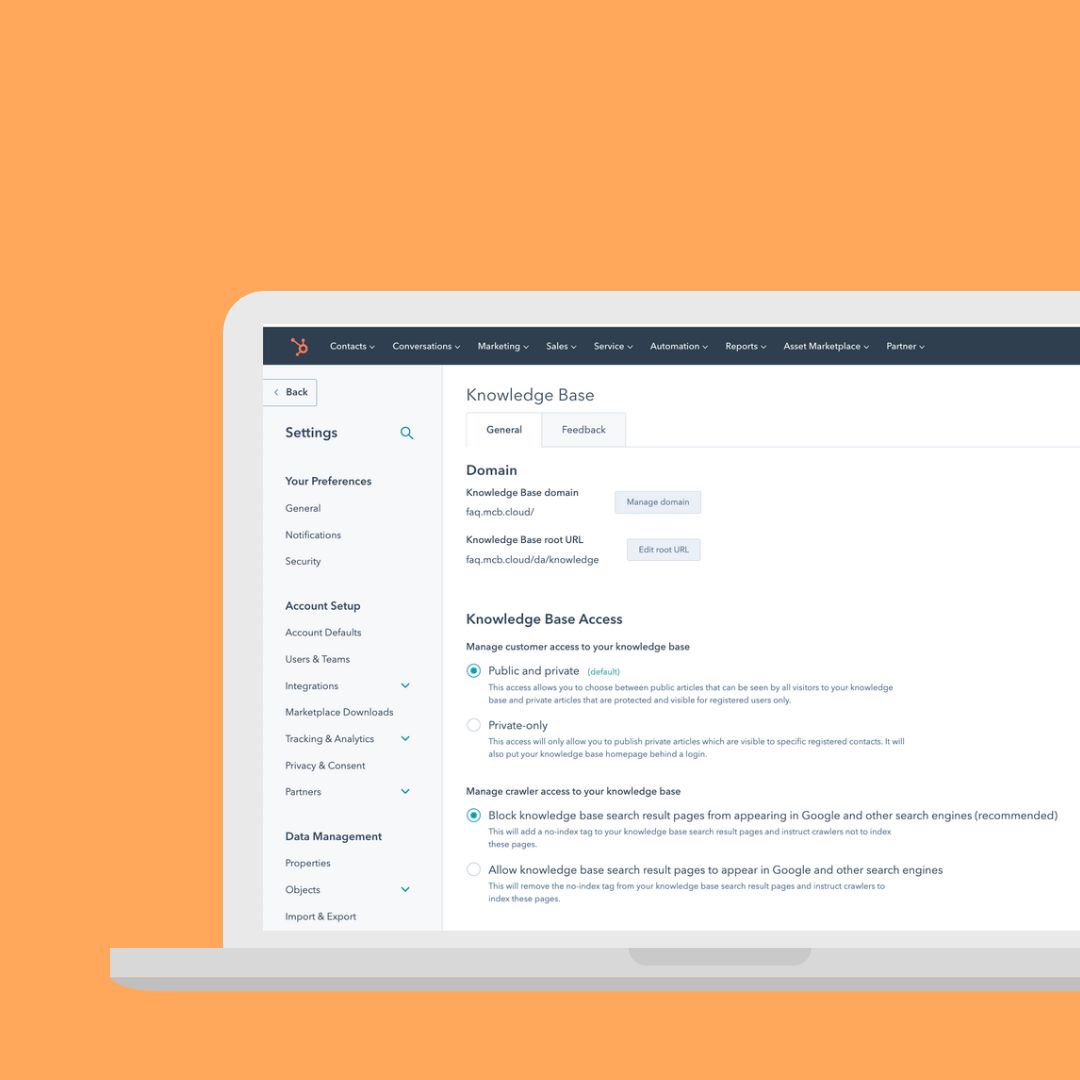 Broadly speaking a Knowledge Base in HubSpot can be used in two ways:
An open and private Knowledge Base
You can use the Knowledge Base in HubSpot as a combination of public and private. As public it is available to all visitors to your site. It can be like an open FAQ where your customers can find the answers to the frequently asked questions. You can also use the open version as a kind of reference work where your customers can see information about your products, delivery, or opening hours. And it saves you the time you would otherwise have to spend manually answering calls and emails with the same questions over and over again.


With an open Knowledge Base you can improve your customer service considerably - and almost without you having to do anything. By collection all useful information for customers in one place it becomes easy to find the answers they are looking for. It may be that they want to see the product description before adding the product to the cart. Or perhaps they have questions for e.g. delivery, prices, or right of return. All questions and shortcomings can be reason enough for customers to drop out because they have doubts or become insecure about the purchase procedure from you. Therefore a Knowledge Base as an open knowledge bank can be decisive for your customers placing the order on your site.


If you choose this type of Knowledge Base you can have content that is open to everyone but you can also have articles that are private where you choose the list or lists that can access the selected articles. It can be selected customers or employees who must have private access. With this solution you get the best of both worlds.



Exclusively private Knowledge Base
Conversely you can use the Knowledge Base as a closed part of your site which is hidden behind a login. It can be a login for your dealers who can log in and see useful knowledge and get the information they need as a dealer. Or if you want to create an internal knowledge bank that only employees can access to get information about employment, working conditions, rules, etc. This can make your onboarding of new employees simpler.

If you want to use the Knowledge Base as hidden to selected people you simply create a list in HubSpot with those you want to give access to the Knowledge Base. You can even further segment the content by creating several lists of contacts and giving them access to some selected articles in your Knowledge Base. In that way you can always control who should be allowed to see your Knowledge Base.
Maybe you already have an idea of how you want to use your HubSpot Knowledge Base. And below you get the push to start building it.
How do You Create a Knowledge Base in HubSpot?
With the Service Professional Hub your HubSpot subscription you will find the Knowledge Base under the 'Service' tab. Here you can decide how your Knowledge Base should look. Here you get a step-by-step overview of how to build a Knowledge Base.



1. Select the settings
To start with go to the underlying settings for your Knowledge Base. This is where you choose the URL and whether your Knowledge Base should be both public and private or only private. Go to settings in the top right corner, select Website, select Knowledge Base, and select the Knowledge Base Access you wish to use.


2. Design your Knowledge Base
First, you must adapt it to the design of your website so that there is a visible thread. You do that with your colors, icons, and images. It is important that customers get the feeling that they are still on your website.

It can seem untrustworthy if a completely new visual expression appears in the Knowledge Base compared to the identity on the site.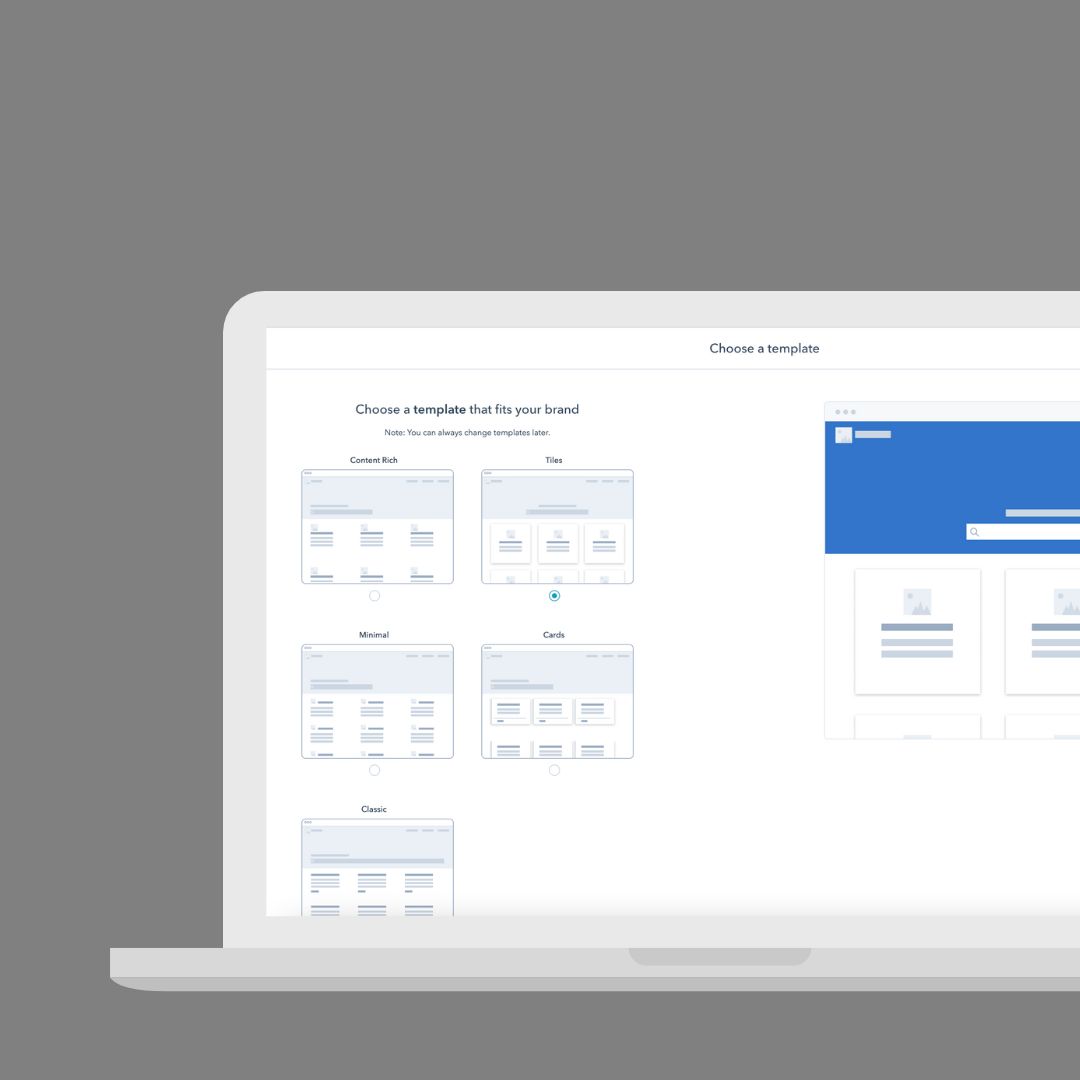 3. Create categories
Once you have the design in place you must start building the categories that will be presented in your knowledge bank. You can advantageously divide your information into categories so that it is clear for your visitors to find exactly what they are looking for.

It can for example be with a category called FAQ where you collect all your frequently asked questions with answers. Or it could be a category called 'Manuals' where you collect all product manuals. With categories you can divide and organize the otherwise large amount of information you have in your Knowledge Base.




4. Create articles
And now you can start the fun part. Namely to create the articles in which the important information must appear. HubSpot helps you on your way and comes up with a procedure for the article with pre-defined fields that you need to fill out. Each article has a Title, SubTitle, and Answer which you must fill with content. In addition, you can of course insert links in the article that lead to other pages or direct downloads.





5. Associate tags and categories
When the article has been written, under Settings you can choose which of your categories it should belong to - It is also possible to connect an article to several categories if you wish.

Next, you can add Tags which activate a search function in your Knowledge Base. When your visitors search for the Tag(s) you have added to the article, the articles with exactly that associated tag quickly appear as search results. This makes the experience in your Knowledge Base even more user-friendly.





6. Choose who can see the content
Under the article's Settings you must finally choose who can access the article you have just written. If you have chosen both an open and a private Knowledge Base you have two options. You can either choose that the article should be publicly available to everyone, or that it should be private and hidden behind a login. If you have an exclusively private Knowledge Base then you only have the latter option.

When you want to decide who should have access it requires that you create a liste under 'Contacts' in HubSpot with the contacts who are allowed to see the article. As soon as you select a list for the article, all contacts on the list will receive an email in which they must create a login to gain access to read the article. And if they have already created a login to your Knowledge Base they will just receive an email telling them that there is now a new article for them to read.




You can continuously work with your Knowledge Base and create the articles as drafts in the start-up phase without it becoming visible to others. When you work with an open Knowledge Base everything in principle only becomes visible the second you publish articles. And then you just need to add a link to the Knowledge Base in your header, footer, or wherever you prefer so that your visitors can easily access it.
When you build a private Knowledge Base your selected contact will only see and have access when you publish articles which will send them an email with information that they can now access a knowledge bank with you. Just as with an open Knowledge Base the private version must also be placed visibly on your site so that those with a login can quickly log in and out when the need arises. You can for example place it in the footer with the words 'Dealer Login'.
With that in place we learned how the HubSpot Knowledge Base works and what opportunities it entails. Now there is not much else to do but start building your Knowledge Base. Enjoy!