Do you work with B2B? And are you responsible for your company's marketing? Then you may already use targeted advertising opportunities available on LinkedIn. If not, you are not alone!
Do you know the myths about LinkedIn?
You have probably heard that views are far too expensive, the lead prices are too high, the channel is at least several years behind Facebook on e.g. intelligent advertising options (this might be true), and in general it's difficult to achieve satisfactory results.
However, we think different and see great potential in LinkedIn.
Therefore, if you feel that the myths play tricks on you, we want to challenge you. And not only that, we will also put spotlight on the marketing KPIs, which make the myths true. These are prices for impressions, clicks and leads.
It is our recommendation that you should adjust your setup and your tracking so that you measure quality instead! Because the quantity of your clicks, impressions and leads doesn't really matter if the best possible customers are not coming into your store - right?
On this we cannot disagree!
But how do you use LinkedIn for advertising when you want to experience qualified performance?
Let's dive into that. You can also learn about opportunities and benefits and read about a specific case that describes how we improved the ad performance in a B2B campaign and generated leads for a x5 better performance.
Advantages of LinkedIn advertising as B2B
What is LinkedIn? Let's not delve too much into that. However, it is relevant to point out, that LinkedIn is best known for self-promotion, as a CV database and for recruitment.
But over the past 4 years, LinkedIn has also developed to become an effective channel for B2B marketing and advertising.
And overall, you have the opportunity to target and optimize your campaigns with the following 5 tactics:
1. Make your segments specific
You may need to hit a narrow target group with your message, and therefore you should be extra specific in your advertising and the criteria you set for it. It could be, for example, that you want to hit a production manager with experience in process management with your advertisement.
You can do this by specifying your criteria in the Target group selection based on both current and even previous titles, and you can also decide that the target group must have specific skills.
2. Create audiences by using data
LinkedIn has come a long way. This is particularly something that can be seen with the possibility of using data to determine target groups and make specific target group choices.
This means that in LinkedIn you can now create target groups by uploading lists (this can be from your CRM or a physical event you have held). Here, however, it is important that you always keep the applicable GDPR rules in mind.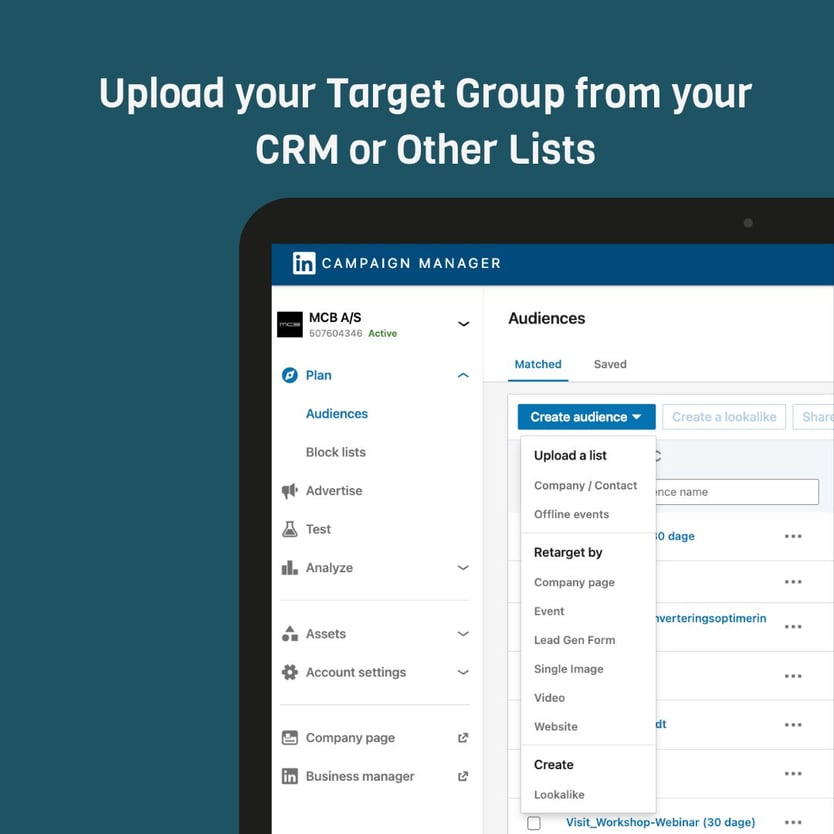 3. Use account based marketing (ABM)
As we already pointed out, you have opportunities to create target groups on LinkedIn based on data - but that is not all. You can also upload company names.
Maybe your marketing department has a long list of companies they regularly contact, and now LinkedIn can support that kind of work via brand ads and video that focus on your company's message.
4. Take advantage of the analytics insight
We have experienced that it is a challenge in sales departments to see the value in the targeted advertising on LinkedIn - perhaps because they are used to approaching potential customers in a classic outbound way.
But with ABM and other strategic efforts that support the sales work with e.g. enrichment of CRM information it is a completely different matter. Therefore you should just get the targeted segmentation going.
5. Increase lead generation with LinkedIn lead forms
We are quite happy with this (and of course also the ad format in LinkedIn). With LinkedIn lead ad you can achieve up to 5x more conversions compared to traditional landing pages with forms.
The format for lead generation is particularly effective when marketing and sales departments collaborate on digital recruitment of leads, which are further processed over time in, for example, e-mail marketing automation.
Our 6 best advices for LinkedIn advertising
It can be hard to figure out what you should do and what you should absolutely not do in relation to advertising on LinkedIn. That's why we've made it all a bit easier for you by collecting our 5 best tips for advertising on the platform:
1. Text in your ads must be appealing and relevant
Texts, and especially good texts, will always add value. Therefore, make sure to put yourself in the shoes of your specific target group when you write your ad content - and this applies to the entire setup, from teaser to headline.
Feel free to start your ad with a question that speaks directly to the job title you chose in your ad targeting. It captures immediate interest, and at the same time encourages your target audience to relate. It could be, for example, "Are you technically responsible for your company's IT department?"
2. Create authentic content - especially via video
Your creative elements in your ads should be catchy and well-founded - and most importantly, they must be authentic. By authentic, we mean that you need to make sure you create an ad that fits in with the content in the users' feed.
In particular, we see that video and images with people who are not posed or have gone through a large editing device with logos, text boxes, etc. perform up to x5 as effectively as graphic and branded material. Here's the point; people buy from people.
You can see an example of this further down in the post.
3. The size of the target group is not decisive
You've probably heard it before. Your target group must be above 100,000 people before you should start a campaign. It is almost unattainable.
However, the truth is quite different. And the many 0s are a joke.
Our experience shows that it is campaigns with a narrow target group that has the best performance - if you also make sure to challenge your bidding and know how to handle it.
If your target group is less than 2,000 people, we recommend that you bid above on clicks or views in relation to the amount that LinkedIn indicates based on the competition from other advertisers: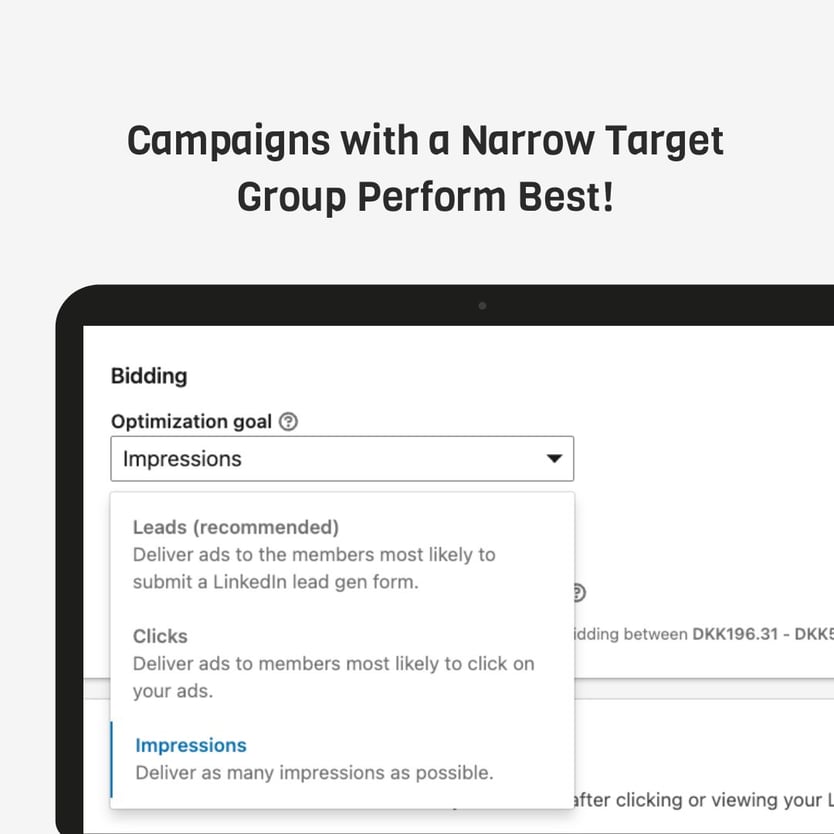 In this way, you ensure maximum exposure as soon as your target group is active on LinkedIn.
This opportunity, as shown in the image above, can be hard to find in LinkedIn. And maybe for a reason.
To find it, you must first choose your goal and then enter an amount.
Are you unsure about manual bidding and automatic bidding? Then we recommend you to test what works best for you, your target group and your criteria. And this especially applies if you know the price you want to pay for leads - or simply want to test it.
4. Test and optimize continuously
A mistake is found in the habit. Once something is set up, runs and works, it is often allowed to work by itself and perhaps the same setup is even copied to the next campaigns. Here we just forget that everything changes over time.
Therefore, we recommend that you continuously test and optimize your ads - both those that are running and those that you will set up in the future. Feel free to test 2 creatives at once to clarify what works the best.
Remember that the format must be the same in your tests, since you already in the setup of your ads choose whether you want to use an image, video or message. If you want to test, for example, a picture against a video, another ad must be set up.
5. Split test with equal distribution of impressions
When you have set up your test ads, we recommend that you rotate the versions evenly. Then you will be bale to determine performance yourself after 3-4 weeks.
Alternatively, LinkedIn quickly finds its favorite between your 2 tests based on views - as you also experience with Facebook.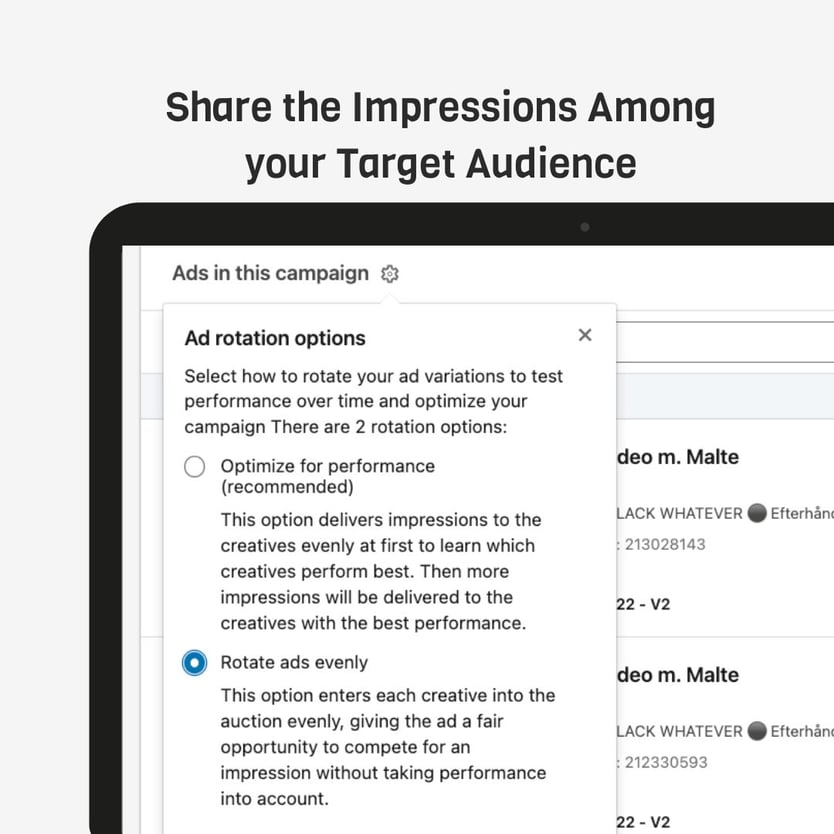 The rotation function is worth it - and it does not yet exist in Facebook.
6. Use tactical advertising with brand video
Last but not least, we always recommend that you supplement your advertising activities with a campaign that focuses on the story of your company. This is something we find particularly good with lead ads, where a large number of conversions is your goal.
An example of this can be found at the company, CeramicSpeed ​​Industry. CeramicSpeed ​​Industry has run a targeted lead campaign in Germany. The goal was to get as many inquiries as possible about their product sample.
You can see it below: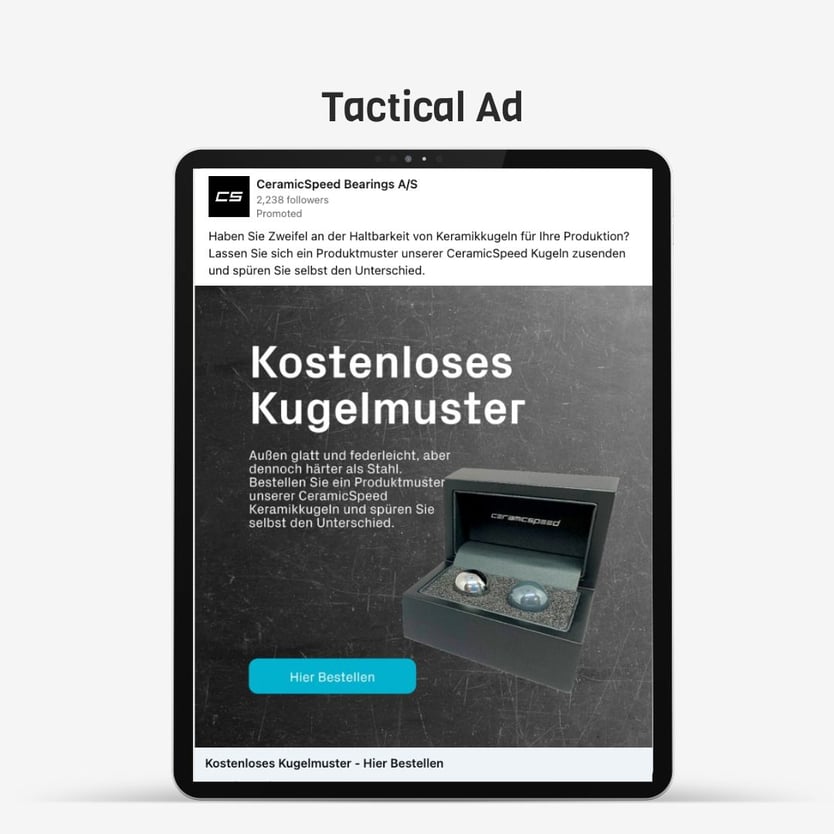 And alongside they ran a brand-specific ad like this: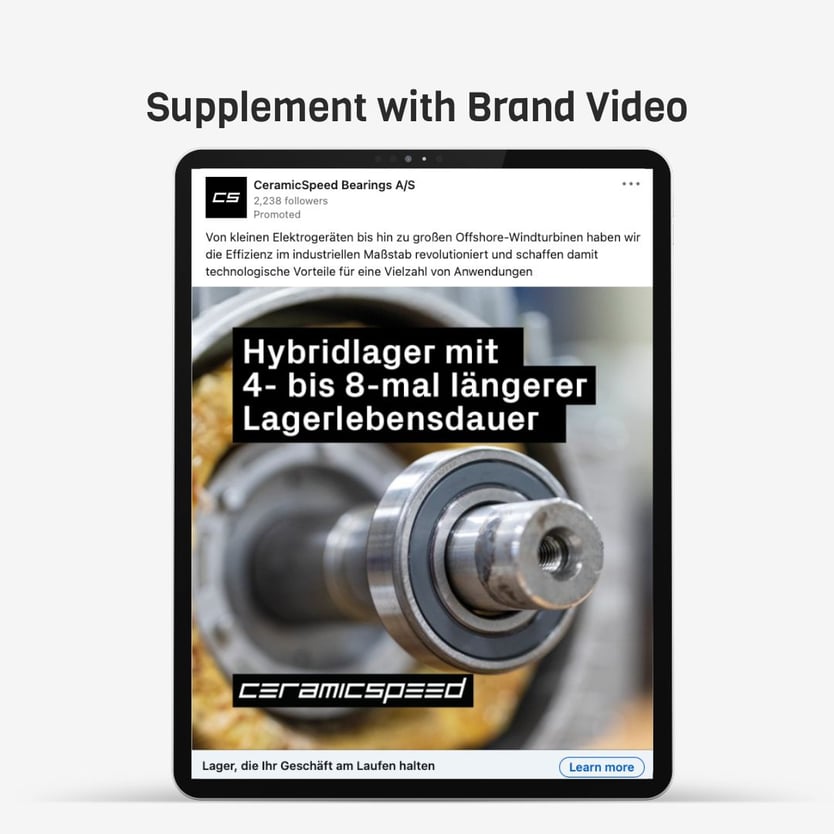 This is how you evaluates performance based on quality
We've mentioned it before, but we'll do it again.
Insight into the quality level of the traffic you receive as well as the leads you generate is crucial for your overall assessment. And that is exactly why you should have control of your tracking setup. It can be via Server-site tracking.
If you have set up advertising with increased traffic in mind, it is important that you add UTM tags to your ads. With such, it is possible for you to track the traffic over time.
It could be related to whether your target group is more likely to convert on your website via inquiries.
In addition, it is of course important that your CRM cooperates with your advertising. In particular, it should contain fields with information about which channel a lead comes from (this could be LinkedIn), which ad on the channel as well as information about name, company, etc.
In particular, systems such as HubSpot and ActiveCampaign are good at capturing and storing this type of data, which you can later use for further evaluation.
If it is instead or also lead generation that you have in mind, in addition to transferring leads automatically to your e-mail system, which captures them through automation, you should also have lead scoring set up. With a focus on lead scoring, you will be able to process your leads more strategically and efficiently according to where they are in their journey and based on the way they have reached the stage.
If you do not have an e-mail system that allows you to set up automated workflows, you should perhaps look for a new solution or a supplement to your current one. It could be Zapier, which i.a. via a Google Docs Sheet can transfer leads between several systems. Afterwards, together with your sales team, you can manually assess the lead quality.
Regardless of whether it takes place automatically or manually, it is important to evaluate leads. This is the work that form the basis of further advertising.
This is how Primo increased their lead ad performance with x5
Primo is your experienced development and production partner when it comes to extruded profiles from plastic, rubber or composite materials. It is an international company with a focus on sustainability. And for a long time, MCB Marketing has had a close collaboration with the company.
In particular, there has been a focus on lead generation for Primo's sales department, which is why a campaign initiative has been developed on LinkedIn via Lead Forms. For the campaign, Primo prepared a guide that could be downloaded directly via pop-ups on both the website, landing pages and LinkedIn lead gen forms.
The objective was direct communication to the target group as well as a strategic test of creatives. The test consisted of two versions of a video, where both the cover of the guide and the content were designed based on the design guidelines for the visual identity.
You can find a sample of the two tests below: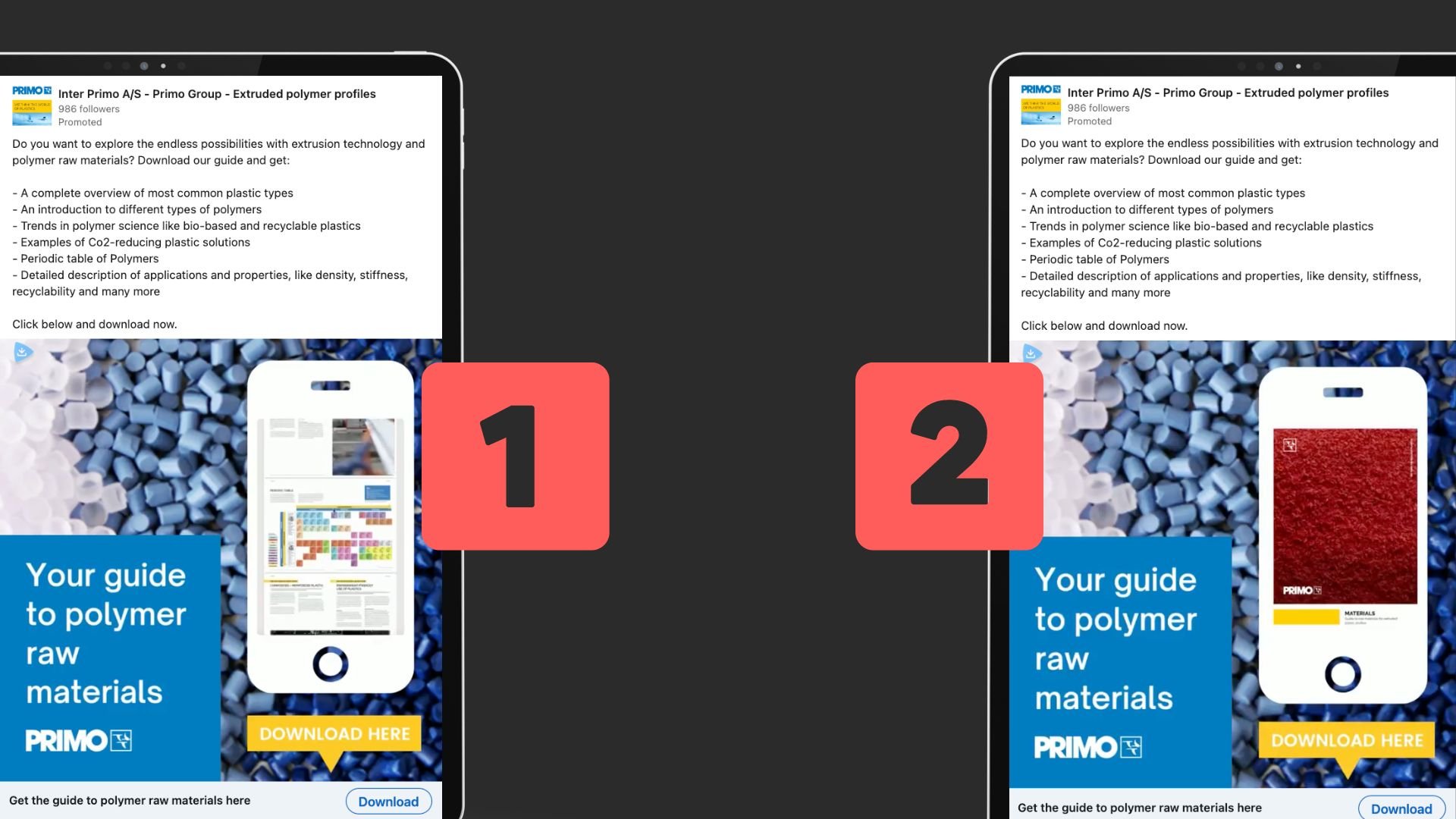 After 3 weeks of high lead prices, we recommended trying a video with real people presenting the guide. Primo therefore sent an authentic video.
And the result is unmistakable!
We found that both performance and lead price differed by a factor of 5. In other words, Primo got significantly more leads at only 1/5 of the price we had previously worked with.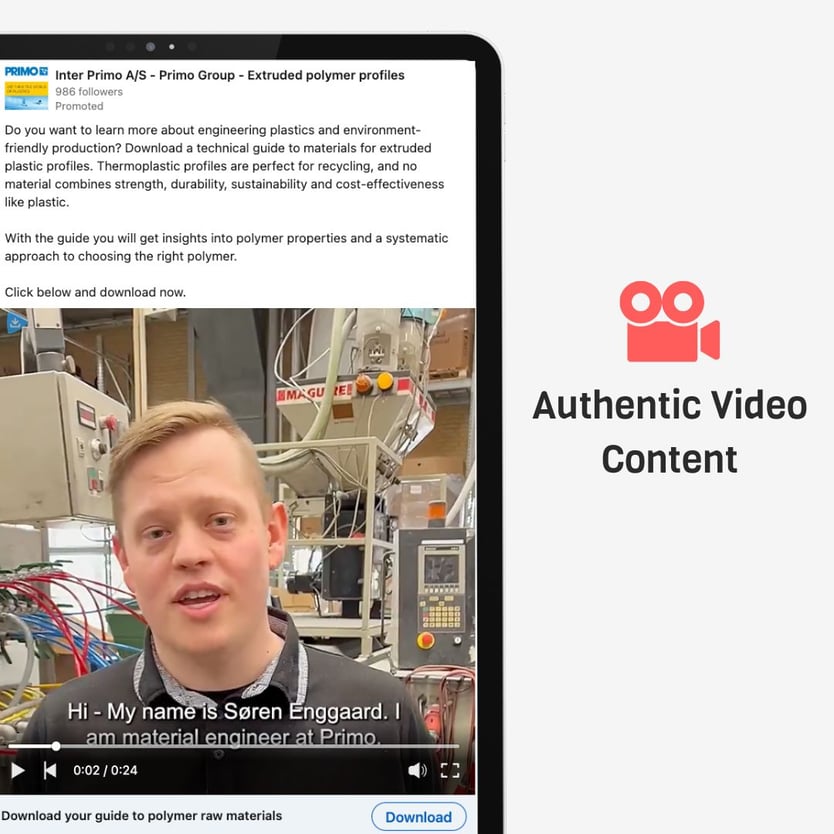 Our recommendation is that you and your colleagues in the sales department should focus on authentic video content. It doesn't have to be produced through a larger setup and expensive prices for creative agencies - just take out your smartphone and shoot yourself, your everyday life and your message.
It can actually be quite fun!