HubSpot is many things. In addition to being your CMS, CRM system, and the cornerstone of your marketing strategy the system is also your helping hand when you want to be successful with your SEO.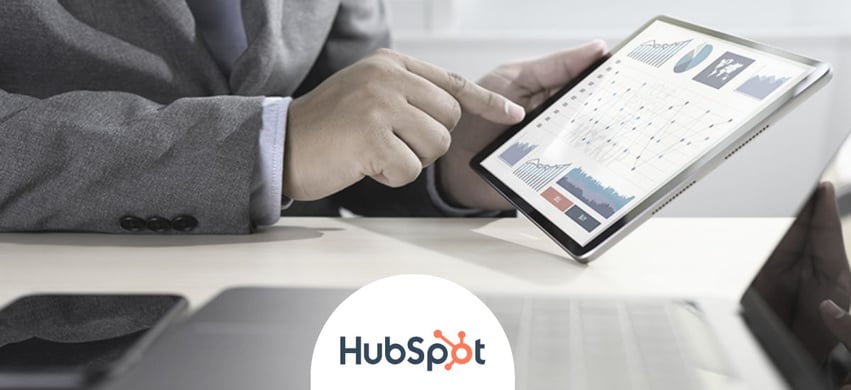 HubSpot's SEO tool is integrated with all the content management tools so it is ensured that you do not miss a golden optimization opportunity.
The year was 2020. And it was really the year when, within the motley world of SEO there was a focus on better user experiences, generally a higher quality of content and speed with Core Web Vitals. With the launch of Core Web Vitals, Google focused on ensuring that landing pages with good user experiences got the best position in the many search results.
And that trend will continue in 2023.
It is therefore more important than ever that you focus on your content. And it is not just improvements compared to making sure to include elements such as title tags, meta descriptions, keywords, image tags, internal links, and other methods that we have been trained in since the dawn of time. This also applies to the structure of a landing page, user experiences, search intent, and other external off-site factors that search engines now focus on.
To ensure SEO performance, it is important to have perfectly optimized content on the website - here HubSpot is an excellent tool.

Flemming C. Lund, Head of SEO & B2B Marketing


And two things that you therefore have to keep an eye out for when you work with SEO in general are location and visibility.
Just say them out loud so you remember them. Location. Visibility.
'Visibility' describes how prominent you are on keywords in the search results that are important for your domain. A low visibility can be due to the domain not being relevant to the query, that it is weaker than that of the competitors, that you have not optimized your content sufficiently, that you have not understood the search intent, or that you have not managed to create content on the search terms at all.
And therefore for increased visibility work must be done towards more traffic via relevant keywords as well as a higher degree of domain authority.
But what does all this have to do with HubSpot?
How to SEO Optimize your HubSpot Site
To optimize your HubSpot site you need to work with a better location and greater visibility. And here there are 3 areas in particular that you should focus on:
The technical setup of your website
Content
Links
The technical setup of your website is improved with on-site optimization which ensures that Google can find and index your website without problems.
On-site optimization covers among other things your navigation on your website as the search engines imitate the actions of the normal user, and therefore it must be easy to find your way around your website. You must therefore create an intuitive and user-friendly menu structure.
And most importantly you as a visitor must always be greeted by a well-functioning page when you click on a link - both in terms of internal links and your links in your menu(s). Therefore you must ensure that you remove dead and broken links and create relevant redirects. It is work that you should carry out reguarly so that your website is always as up to date as possible.
Making redirects takes place in HubSpot with a few clicks on 'Settings' under 'Domains & URL's'. Here you will also find an overview of your current redirects which you can search so you can get an overview of your current redirects and those you may need to create.
If you have a large number of redirects (e.g. in connection with a launch of your website on HubSpot), and you would like to avoid the manual and time consuming entry you can carry out an import with a CSV file.
There is also a focus on a simple URL structure without complexity (e.g. avoid using characters æ, ø, and å) so keep your URLs as short as possible - but still ensure that they ensure correct placement and navigation. You can keep an eye on it in your 'Site Tree' which you will find under 'Marketing'. Here you get a hierarchical overview of all your live pages and the way they link to each other so you can make sure that your subpages are correctly positioned below your main pages.
And then your page speed must be top notch.
Load time is today an indicator of quality and therefore it is worth increasing the speed by for example reducing the image quality and size - without losing the professional expression. In addition you can select 'Lazy load' on your images.
Content today is not just text that you find on a landing page or in a blog post. It can also be pictures, videos, product recommendations, and much more. And because there is so much content it is important to create an overview by for example dividing your content into topics - this is an advantage for yourself as you maintain clarity but it also applies to your visitors who experience a higher degree of user-friendliness. It also makes it easier for search engines to give your content a high rating.
For this it is relevant to focus on the keywords you use. If you use the right words, phrases, and sentences you can attract visitors who you can later convert into paying customers. Keywords can be placed as part of your texts but you can also integrate them in titles, URLs, alt tags, titles, and meta descriptions.
Prior to this work a thorough keyword analysis may be relevant.
It is important to make a thorough keyword analysis in the efforts to achieve good rankings. There are several SEO tools for the purpose such as Ahrefs and SEMrush, but you could also use Google or Chat GPT for inspiration.

Flemming C. Lund, Head of SEO & B2B Marketing
The performance that your content can deliver will be enhanced with links - both internal and external (in addition to the authority and popularity of the domain that is linked to) as well as the length of your texts.
All of this can sound mysterious and be elusive to deal with when SEO is a field that is constantly changing. And that is why HubSpot's SEO tool come into the picture.


HubSpot is your SEO Marketing Software
With HubSpot's large selection of SEO tools you get the opportunity to quickly and simply plan your SEO strategy so you ensure that the topics that are relevant to you get the authority they need in the search engines. You get the optimization advice that leads you on the right path - all the while designing your content and it is made clear for you to measure your SEO performance with integrated SEO ROI analyses.
And if you are missing some data you can set up 'Dashboards' yourself with additional 'Reports'.
To ensure that your optimization meet your expectations and that you can always react if you should correct your content HubSpot can give you a number of different data areas that give you valuable insight into e.g. performance and ranking in searches.
Under Marketing you will find the entire SEO area which contains both 'Recommendations', 'Analyze', and 'Topics'.
SEO Recommendations are probably one of the strongest SEO tools you will find in HubSpot.
With the function you have the option of scanning all your live pages for SEO recommendations (it may well take a few hours to do such a run). You can filter the recommendations based on Category, Impact, Technical difficulty, or Role and in that way create the view that gives you the knowledge you need.
Under recommendations you also get a simple display that tells you if your landing pages lack any significant measures - you therefore get an overview of each individual page which you can easily react to in the relevant page's 'Settings' level.
It can for example be in relation to crawling and indexing so that it ensures that your page can be found in the search engines. It could be whether your Title is existing, is within the recommended length and is unique. They look at whether your page is mobile-friendly, whether is has relevant and well-functioning links, whether it has a meta description that complies with both length and uniqueness, whether it has images with all tags and much more.
All of this is something that is given without further ado, so that you can quickly make corrections for the better on your website.
Today search engines reward websites whose content is organized by topic. And HubSpot's tool makes it easy to discover and rank in the topics that matter to you and your customers.
You select a specific 'Topic' - if you are a marketing agency it could be 'Facebook' for example. To this you attach with internal links the landing pages you have created that relate to Facebook as the main area. These can be for example landing pages that describe how to get started on Facebook, how to be successful with your Facebook advertising, how to use your Business Manager, and much more.
When all these pages are linked together under one topic you can easily form an overview of topics that you need to design some content around as well as you can keep an eye on performance on each subpage.
Performance covers e.g. 'Time per Page view' and 'Bounce Rate'.
If you lack inspiration for further topics the SEO tool will of course also help you. You simply enter a keyword. It could be 'Facebook' and immediately afterwards you will be shown words with a large number of searches which you should rank for with your content. This means that you get a number of practical recommendations that help you SEO optimize your website based on among other things relevance, competition, and popularity. And you get a prioritized order so you get an overview of which optimizations will have the greatest impact on your results.
Topics will also suggest current landing pages you have already created that may link to your main topic but that you have not linked to yet. Therefore you will also be helped to have a greater overview and sort for the benefit of both yourself, your visitors, and not least for your position in the search results.
The reports under 'Analyze' are detailed and enable you to make the sortings that are relevant to you. It can for example be for a specific time period which is useful if you have launched a new initiative which you want to monitor separately from your remaining initiatives.
And you get a simple overview of any negative and positive trends when it comes to e.g. clicks on your landing pages and the average position. Therefore you can see how the current performance is compared to previous periods, and it also gives you an insight into which campaigns and measures in general you should initiate in the future.
You can also keep an eye on which pages get the most 'Impressions' and clicks - the so-called Click Through Rate (CTR). It is data that tells you which landing pages are working and which you should spend a little extra time improving. That way you know where to put your efforts to achieve the best results, and in which order you should prioritize them.
In relation to your marketing budget it can be a big advantage - we all know that resources and finances often block all good intentions.
It is important to try to improve the click-through rate from your search results. More and more elements fill the search results such as Google Ads and Shopping, local search results, FAQ snippets and so on. Therefore, it is important to have interesting search results that people want to click on. Thus, you don't drown in the crowd among competing websites and other Google elements.

Flemming C. Lund, Head of SEO & B2B Marketing


You can further validate all of this under both recommendations, topics, and analyze if you choose to integrate Google Search Console with your HubSpot.
Metrics such as total number of views, average position, and click-through rate tell you exactly where your content is in Google's search results. And therefore you get an even stronger data insight into what works and what should be optimized.
And then it is suddenly easy for you to lay out the SEO strategy that will give you the greatest success and justify all the work you put into the preparation and optimization of your content on your website.
Note that SEO recommendations can be accessed from all HubSpot accounts (regardless of plan) from the page editor. However SEO topics and SEO recommendations from the SEO menu item are only available for accounts on Marketing Hub Professional or Enterprise and CMS Hub Professional Enterprise.
Easily Build your Site in HubSpot
All this may sound complicated. SEO has a habit of being a bit of a mysterious area which can be difficult to become fully aware of. But with HubSpot it is made easy and the same applies to the website you can build in the HubSpot CMS. With CMS Hub you can build a completely code-free website with SEO on the priority list.
It all takes place with an intuitive drag-and-drop editor which does not require previous experience with building websites to be able to handle it.
It could hardly be easier.
And we would like to help you on your way - both if you are just starting out at HubSpot or are interested in hearing more about the options available to you in the system. If you are looking for general help and guidance for SEO our SEO expert is also ready to help you.