Is headless cms headless crazy or brilliant? Headless has gradually become a buzzword within web development - and for good reason. When you want to act both quickly and agile as part of your company's digital strategy a headless CMS can help you deliver value across channels.
Technological development is constantly moving and every day it moves faster than the day before. Therefore it is about seizing the opportunities for efficiency that present themselves - and here headless is the new thing.
A headless content management system or a headless CMS is in short a backend only content management system. And therefore it is the place for storing all your content.
It is a CMS without a front end and therefore it is purely a content database with an API that takes care of delivering your content to any other system. A headless CMS is therefore the place where you store, update, and delete content but it will not be displayed anywhere unless you connect a front end. It is only in the frontend that you can see content and everything you have worked on in the backend. And therefore it is also only what is on the front end that is visible on your website - regardless of whether it is a webshop, a website or an app.
With a headless CMS it has therefore become possible to maintain your website's content in one place. Your content creators do not have to deal with a multitude of channels and complicated applications that only increase in number, and instead a customized technology that embraces your entire content universe can become the primary work tool.
Below you can read more about headless CMS, what it can do, and how it works when content is sent out from the backend to the frontend.
What is the Difference Between a Traditional CMS and a Headless CMS?
Since the first website saw the light of day the traditional CMS has been used. This is a system that consists of both backend and frontend - and both are mutually dependent on each other to function. And it is even really good!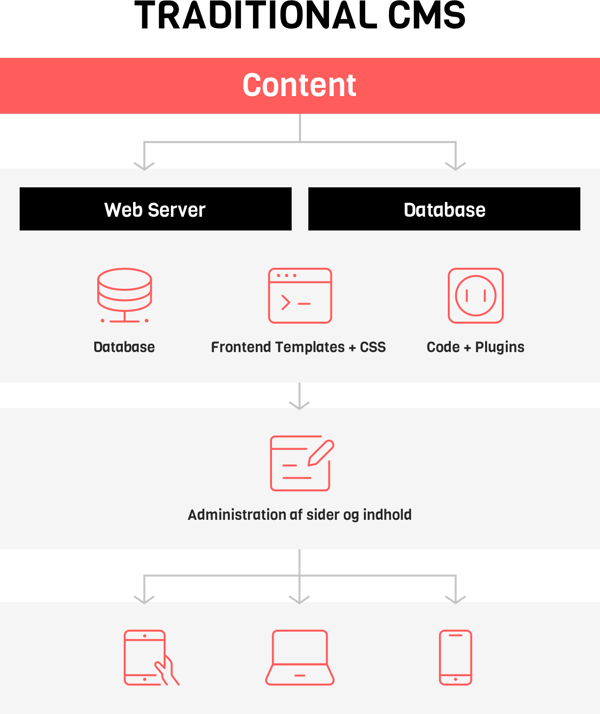 Primarily because until a few years ago there were no other options to access a website on. You just opened your browser.
Since then major platforms such as Umbraco, Magento, and Wordpress have seen the light of day and have been among the most popular systems to publish content through.
Today the case is different.
We use content in a multitude of other ways. And we see it on different devices. This involves a lot of work because content for the various devices must be prepared in different systems. And a significant silo division is created where you have to update and upload content several times.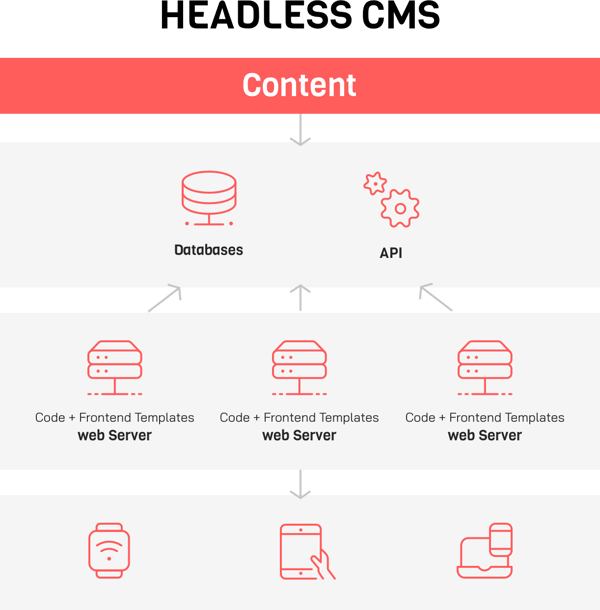 Therefore, we need to split the frontend and backend from each other so that handling in several systems is not necessary to get content beyond the steps.
When the frontend is removed from the backend - and the head is removed from the body so to speak it is possible to manage all content in one place and at the same time implement it across platforms. All that is needed is an API call.
Therefore, the entire strategy that connects to headless is today's key to implementing omnichannel successfully.
What are the Advantages of Headless CMS or Headless Commerce?
Are you looking for flexibility in a complex world where new devices are constantly being added? And do you need to show your content on several of these - e.g. your website, screens in your store, via apps etc. while omnichannel is important to you? Then headless is a good choice. With a headless CMS you can for example use the same business logic on the website as on the POS via an app in your store or out with your traveling salespeople.
If you also want effective content management, scalability, and faster time-to-market then you will love the creative freedom of headless commerce. Because the API does the heavy lifting across your channels there is more time to focus on the content you customers demand which is why you can create tailored customer experiences. And instead of spending expensive IT time on implementing changes in the front end other urgent tasks in your company can be solved.
And all this while content is launched faster than ever which is why it is possible to react to changes as they happen. It could be for example new marketing trends or a change in the behavior of your customers which precisely requires different approaches in relation to content.
And best of all, you can stay in your headless CMS for a longer time as it can grow as your business expands. Even if times change and you need a new identity, other channels, or something else your backend can be adapted to the new frontends. Therefore, you will experience a much longer lifespan and thus fewer costs for changes. Current costs can be scaled down sharply for e.g. maintenance in your CMS.
How the API Works with Headless CMS
An API is the app that connects 2 systems so they can exchange data.
Content which is made in a headless CMS is delivered via API so that the content that is produced can be delivered without problems to the desired platform. In this way you only have to produce your content once as the API call adapts the content to the systems.
For a headless CMS the main task is therefore to manage and store the content you produce as well as ensure a connection between backend and frontend so that it becomes possible to connect your content to the platforms you need - both now but certainly also in the future where we assume that the need will only increase.
Choose the Right Headless CMS for you Business
There are many things you should consider when choosing the right headless CMS for your business. The infrastructure is particularly important which is why you should choose a supplier who among other things uses Content Delivery Network (CDN) to deliver content and focuses on security.


Headless CMS on Umbraco
In working with headless CMS at Umbraco it is impossible not to become familiar with Umbraco Heartcore which is a headless backend with more than 15 years behind it. Heartcore comes with a set of API endpoints that make it possible to send content from Umbraco to websites, apps, smartwatches, and a wide range of other devices.
If you are used to working in Umbraco then Heartcore is built on the original CMS that you know, so you will quickly learn how to manage Heartcore.
With Heartcore content is sent via CDN which with the help of Cloudflare ensures fast delivery to the front ends you need to use.


Headless commerce on Magento
Magento is built as traditionally as most other webshop and CMS platforms where frontend and backend are brought together closely. WIth the Headless Commerce method however the two entities are torn apart, and therefore you get the opportunity for more adaptations so that your content and not least your products (if you run a webshop) can be published on several platforms at once.
With Headless Commerce on Magento you must focus on the design of the front end as this is decisive in relation to the number of platforms you will use as well as how complex they are.
Therefore, make sure to customize your API. The more complicated your frontend is the more the API must be adapted to function as an optimal link between frontend and backend.
You should also consider implementing Progressive Web Apps (PWA) which is a newer method of creating user-friendly mobile website. This means that your website will work traditionally on desktop but will be designed as an app for both mobile and desktop views.


Headless commerce with Shopify
If you choose to headless with Shopify you retain all the backend functions you know. The difference is that you must use a different front and to present your webshop.
Shopify is already built with the separation between frontend and backend and therefore your backend in Shopify is able to accommodate the frontend you choose to host your webshop on. This means less hassle.
Shopify has also created its own API storefront for the purpose.
However it should not be understood that Shopify is headless from the start but everything is thought into the system, and if you choose to go headless the process is therefore simpler with Shopify
Would you Like Advice on Choosing the Right CMS?
At MCB you will find specialists who can give you the advice you need.