"I know you think I'm only gonna talk about AI. But I am here to talk about something even bigger… change". Those were the opening words from HubSpot's CEO, Yamini Rangan, which kicked off INBOUND23. And 'change' turned out to be a recurring theme in all the presentations.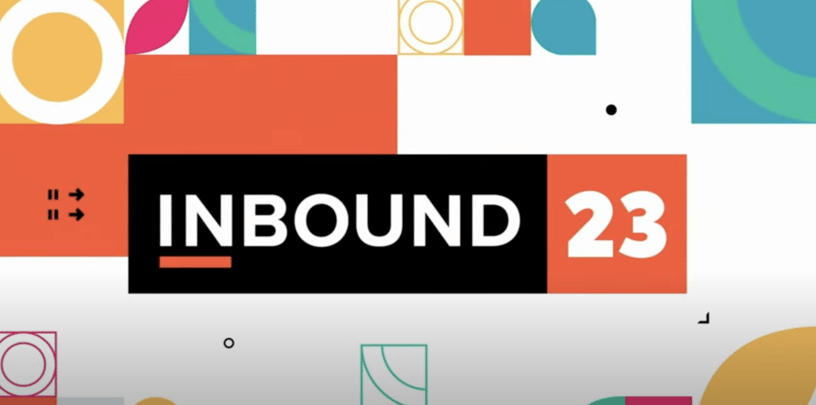 Every year, HubSpot invites users and partners to INBOUND. An event that spans over 3 days, physically held at the platform's headquarters in Boston, and this year also featuring the option for online streaming via YouTube. The main purpose of the event is to share knowledge about HubSpot's many capabilities and, in general, the trends observed worldwide that can influence the way we operate online. It also unveils new developments, features, and functions.
Once again this year, the stage was set with words from Yamini Rangan. She has the knack for opening with current words that set the tone for the remaining presentations.
The focal point of INBOUND23 was 'change,' particularly the way AI drives changes. These are changes in the way we use the online world and changes in how we perceive it.
Because with AI, we're looking far into the future. And if we don't harness the opportunities that AI brings, we will fall behind faster than ever before, miss out on growth, and experience a loss of control – ultimately missing out on that famous connection.
'Connection' was precisely the focal point of INBOUND22, and it became evident that when we lose connection, a gap emerges that hinders our growth – both for individuals and businesses.
INBOUND22 specifically highlighted how an abundance of channels and content, along with COVID-19, has left us more 'disconnected' than ever. Therefore, HubSpot's primary agenda for INBOUND22 was to re-establish those connections.
And precisely those connections can come from the opportunities that AI brings with it.
With AI comes significant changes
Today, we live in a time filled with changes, and they are increasing in both strength and speed. A significant part of these changes can be attributed to the progress of AI. The more machine learning we incorporate into our daily lives, the more other and newer ways we need to adapt to everything from the internet and interaction to privacy and strategies.
During INBOUND23, it is mentioned that it's the era of 'intelligence.' We are undergoing a transition from being in an information-driven world to suddenly finding ourselves in an intelligence-driven reality. It's both the intelligence that AI brings but also the intelligence we need to exercise when we want to control AI.
Everything can be built upon the knowledge we already have. We all contribute to feeding various AI systems with information, making us a significant part of the progress – in other words, we have control. This means that the data AI provides is based on 'old' data. And perhaps that's the whole key to success with AI – giving something away to get something back that is even better and more intelligent?
For example, we see that the customer journey is changing. In the past, as marketers, we had to push our products to target audiences through well-thought-out strategies, and we still need to do that. However, we increasingly see that audiences can discover relevant products before they even actively search for them, such as on platforms like TikTok. That's also why influencers or creators exist everywhere today – no matter which platform you're on, you'll find these key figures who manage to create massive communities that listen to and believe in them.
If you need to create a new marketing strategy, it might be worth investing in influencers. As stated during INBOUND23: "Creators are businesses, and businesses are creators."
Our customers have thus shifted from searching for products to finding them through social networks, while the clicks they used to decide on a purchase have turned into 'conversations.' Perhaps now is the time to reconsider chatbots? They can be both marketing bots that drive traffic, engage potential leads, and convert them into customers, as well as service/support bots that ensure a good post-purchase experience.
AI is, therefore, the cornerstone of 'connections,' which is why the future may also offer many more communities and micro-communities. You should invest in them – perhaps even create your own communities to expand your target audience. These communities can also be led by creators/influencers, each bringing a substantial network with them. Therefore, welcome these (often young) Gen Z individuals into your world.
What does AI mean for the way we use HubSpot?
AI is already a significant part of HubSpot, and very soon, more features will be added. Here's an overview of 5 areas where AI can enhance your use of HubSpot. Some are already available to try out, while others are in BETA. They can all help streamline your workflows – and as we all know, time saved is equivalent to money saved on the bottom line.
Blog
Do you ever experience writer's block? If you frequently write blog posts, you're probably familiar with this feeling. It can be challenging to get started, but luckily, HubSpot can assist you in quickly and easily publishing relevant content.
When writing a blog post, you can use AI through AI Blog Writer - not as the sole factor for your content, but as inspiration. AI can help you come up with a compelling and SEO-optimized headline that accurately represents your content.
AI Blog Writer uses SemRush to ensure that everything from the title and meta to the content itself is optimized for SEO. Before your text is generated, you'll need to answer a series of questions to ensure your blog post aligns with your expectations. You can also choose the tone in which the content should be written.
If you don't need inspiration for an entire blog post but perhaps just a few paragraphs or the conclusion, that's also possible.
Website
Building a website from scratch has never been faster or easier. Instead of spending hours, maybe even days or months, starting your website project, you can now do it quickly with Website Assistant. This allows you to test whether your idea for a website can be a success.
HubSpot lets you create an entire website with a homepage, subpages, and even suggestions for content blocks - and best of all, it includes a CRM. All you need to do is answer a few questions about your website's purpose, appearance, and style, and you're off to the races.
Afterward, you can adjust and customize as needed to ensure your website matches your vision. This saves you a lot of time, and you can dive straight into the editing phase, adding content without having to spend time on layout and structure.
Report
Do you find it complicated to extract the data you want from your reports? You're not alone, and that's why HubSpot has developed its Report Assistant.
With HubSpot's Report Assistant, you can get all the valuable data you need by simply asking a question. For example, you can ask, "Where do my leads come from?" and your report will be created. You can, of course, adjust it as desired, adding more parameters later. You can do this manually or ask AI to help you extract additional information from a report.
The Report Assistant can also help you write a good description of the individual report, even if it wasn't originally created through AI.
Emails
AI can also be used when writing emails from the inbox you've linked to your HubSpot account. Simply find your email in your current provider, like Gmail through Google, open a new email, and click on the option "Write an email for me."
You'll be presented with a series of basic questions about what you want to achieve with your email, forming the basis for the content AI creates. Afterward, you can, of course, adjust the content to match your expectations and the recipient.
Customer service
If you have customer service in your company, you know how important it is for it to be efficient and responsive to every inquiry. A good customer service is a critical competitive advantage today.
So why not use AI here as well to enhance how you handle customer inquiries?
Once an inquiry comes in and your customer service team needs to respond, you can use AI to 're-write' or 'expand' their message. This ensures that the wording becomes friendlier or more professional, as well as more explanatory – precisely the things that are essential in customer service.
AI can also be used in your customer service to provide an overview of an entire correspondence that has taken place. This can be especially useful when an inquiry consists of many emails, offering benefits to both customer service representatives and customers.
If you want to take your customer service a step further, you can also create a chatbot via ChatSpot. With an AI chatbot, you can provide answers to common inquiries without involving your customer service team. Often, the same questions come up repeatedly (which is why many use an FAQ). AI will scan your entire website for answers to the questions asked. So if you have informative and descriptive content on your website – both on landing pages and in your knowledge base – you've laid the groundwork for an efficient customer service chatbot.
You can look forward to it
HubSpot has once again unveiled many of the new functions and features that will soon be available on the platform - and in fact, several of these are already in BETA, so you, like us, can try them out.
First and foremost, there is a lot happening in the world of AI. Therefore, more AI features will be continuously added to HubSpot - and some of these are so unique that other systems do not offer the same. HubSpot will, therefore, be at the forefront.
These features include various forms of assistance, such as Report Assistant, Website Assistant, and Campaign Assistant. We have already covered Report Assistant and Website Assistant in the previous section, while Campaign Assistant will work in a somewhat similar way. Based on a few well-considered questions, AI will be able to create well-functioning campaigns - including landing pages, ads, and emails, as needed.
All new AI features will be integrated into the functionalities we already know, use, and love in HubSpot, so they will simply function as smart additions that can streamline and make your workflows more efficient.
The future will also bring a new and improved experience with Sales Hub. It promises faster and easier methods for connecting with leads and contacts, including a new lead experience, a new approach to prospect reporting, a new form of deal management, and a stronger connection between HubSpot and LinkedIn - something many of us have been eagerly awaiting.
Commerce Hub will also be added, providing an easier way to conduct commerce through your HubSpot, including integration with Stripe. Service Hub will also be added, ensuring stronger customer service, while a smarter CRM will provide you with much more data and information about your contacts and companies. This valuable knowledge can be used to streamline your marketing and sales efforts.