Welcome to a world of modern retail, where technology and physical customer experiences unite in a unique way through the advanced Shopify POS point-of-sale system.
It sets new standards for how we conduct business and enhance the Omnichannel experience for both customers and you as a business owner.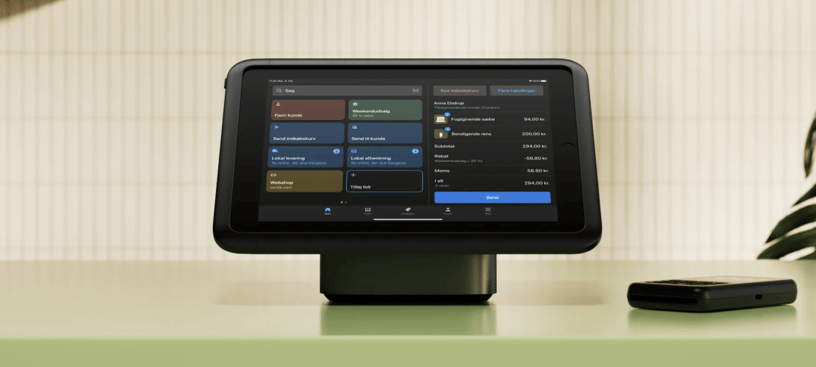 Omnichannel is all about connecting the different channels your business utilizes - both online and offline. It requires a strategy where you can be present everywhere at once, which is why activities spanning your sales and communication channels are necessary.
And that's precisely where Shopify POS comes in.
Shopify POS is an integrated sales and point-of-sale solution developed by Shopify. It's designed to streamline and enhance your sales processes by combining traditional in-store sales with your online business.
With Shopify POS, you can easily manage sales, inventory, and customer service in one centralized platform, enabling you to sell products not only in physical stores but also at fairs, markets, and pop-up shops.
The solution seamlessly integrates with your Shopify Shop, providing a smooth transition between offline and online sales channels. This makes Shopify POS the ideal choice when you want a point-of-sale system that optimizes your omnichannel strategy.
As an app, Shopify POS synchronizes data in real-time, allowing you to track and manage orders and inventory across your sales channels from one comprehensive overview. This means you always have your store at your fingertips, whether you need a point-of-sale system in your physical store, pop-up shop, or events.
Discover more about Shopify POS here.
Why is an Omnichannel strategy important?
There are several reasons why you should implement an Omnichannel strategy in your business.
Notably, one of the most immediate reasons is reducing lost sales. An Omnichannel point-of-sale system like Shopify POS can minimize the risk of out-of-stock items and inaccurate product availability information in both your physical and online stores. This means your customers can easily find the desired items without having to look elsewhere.
More importantly, an Omnichannel strategy allows you to cater to your customers by offering them more options than ever before. Allowing them to shop both in-store and online, and perhaps even through mobile apps, accommodates various customer preferences while ensuring your products and services are available where your customers are.
It also increases convenience by being accessible at all times of the day.
With an Omnichannel approach, you gain a comprehensive understanding of your customers' behavior. Utilizing data from various channels and analyzing them enables you to make targeted decisions in the future, such as in your marketing campaigns.
When your customers experience a streamlined and cohesive shopping experience across all your channels, their connection to you and your brand strengthens. This can lead to increased loyalty, repeat purchases, and positive word-of-mouth referrals to potential customers.
This means you enhance your competitive advantage—not only because your customers can shop when and where they prefer but also because you build strong loyalty.
In the e-commerce realm, it is crucial to stay ahead of such trends and technological advancements if you want to continue meeting your customers' expectations.
What can Shopify POS do for you?
Shopify POS can make everything difficult easy for you. You'll be able to run your business from one single platform with the tools you need. Its wide range of features includes sales management, inventory control, and payment integration.
Some of the key features include:
Sales Management: Efficient handling of the sales process, including adding products to the cart, applying discounts, and managing payments.

Inventory Control: Monitoring and managing inventory, whether products are sold in-store or online. Inventory levels are updated automatically when an order is processed.

Payment Integrations: Support for various payment methods, including credit cards, cash, mobile payments, and other popular payment gateways.

Taxes: Automatic calculation of taxes based on your store's location. You can disable taxes or set specific amounts for certain orders or products.

Customer Management: Ability to create customer profiles, track purchase history, and provide personalized service.

Employee Administration: Grant necessary permissions to employees to control their access. They can also have individual PIN codes to log in to the POS system.

Reports and Analytics: Generate detailed reports and analytics on sales, inventory, and customer behavior to make informed decisions.

Customized Receipts: Send customized receipts via email or SMS, building a customer list for future interactions.

Returns: When an order is returned, whether purchased in-store or online, your inventory will be automatically updated.

Custom Dock: Streamline the payment process with a customized dock tailored to various actions to accommodate your employees.
Additionally, there is a wide range of PRO features available. You can access these with a POS Pro subscription.
Some of the POS Pro features include:
Local Pickup: You have the option to manage and prepare orders marked for local pickup directly from your POS system.


Buy in-store, ship to customer: Sell your products in a physical store and ship them directly to the customer from locations where the items are in stock.


Low Stock Alerts: Receive warnings when your inventory is low, based on turnover rate and delivery time.


Clearance Item Suggestions: View products that aren't selling well, so you can free up liquidity and storage space.


Inventory Analysis: Identify products worth restocking and those taking up space based on the inventory efficiency classification system.


Unlimited POS Employees: Add and manage employees with POS access, but without administrator privileges.


Custom Paper Receipts: Customize paper receipts with your website, brand, colors, operating hours, promotions, or policies.
There are many, many more effective and smart features in Shopify POS. You can find a comprehensive list of them all here.
Shopify POS is suitable for both small and medium-sized businesses, allowing them to expand their presence across various sales channels.
It's sales as it should be
With Shopify POS, everything is made easy for you.
Not only can you quickly and easily start creating coherence between all your sales channels - online and offline, but all your administration is also centralized in one place. You will be able to access all your data across all your locations and derive the insights you need to gain a comprehensive overview of your entire business.
Furthermore, Shopify also offers the hardware and software you need to use Shopify POS - the hardware and software are pre-connected, so you don't have to go through a big setup process. The hardware includes terminals and card readers - all designed to fit seamlessly into modern business setups.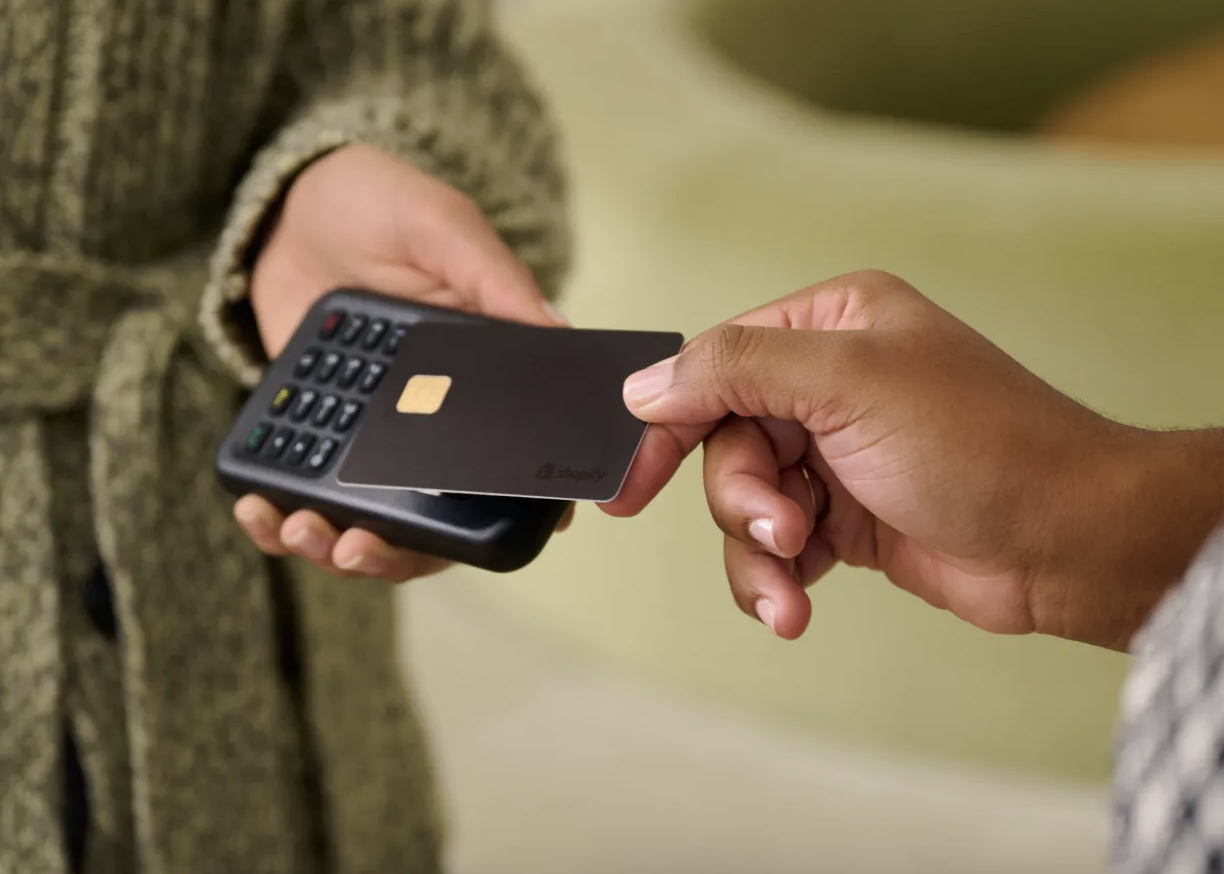 It's reliable products designed to facilitate seamless sales both in-store, online, and at various events you may participate in. This means you can close sales and process quick payments with user-friendly software at your fingertips.
Imagine a point-of-sale system for your webshop and physical store that is intelligent and fits right in your pocket.
All of this means less work for you. You can save time and increase efficiency in your business by consolidating all data for orders, customers, and inventory in one place. Everything is updated in real-time and synchronized with all sales across all locations.
It's the point-of-sale system that not only fits but also cares for your business.
But that's not all.
Right now, MCB offers you a unique opportunity to have a live demo of how Shopify POS works. It can be challenging to envision how Shopify POS can help you. Making a leap into a new project and investment you're not familiar with can be daunting.
That's why we have a Shopify POS station set up as a demo at our office in Holstebro. It provides you with a special opportunity to try Shopify POS, experience how it works, and get to know the system better before diving into sales via Shopify POS.
Together with you, we'll go through the many benefits of Shopify POS, and you can have your questions answered to determine whether Shopify POS is the right fit for you.
Book a demo today at the bottom of this page.
How to Succeed with Shopify POS
Shopify POS can be your path to success. However, neither the hardware nor the software can stand alone when you desire an effective Omnichannel approach. It's essential to continuously adjust and improve yourself and your stores.
First and foremost, always ensure that your product catalog and inventory are accurately updated across all your sales channels. This helps avoid potential stock issues and prevents disappointed customers when they discover that a desired product is out of stock.
Certainly, this is something you already do when running an ambitious business, but to cater to a streamlined Omnichannel shopping experience, it's even more crucial to be sharp on your product availability and inventory.
With Shopify POS, you're provided with all the data and statistics you need, presented in an easily digestible format. Take advantage of this! Utilize the numerous reports to enhance your strategies and initiatives. Also, use them to gain insights into your customers. Study their behavior, preferences, and patterns. With this knowledge, you can send them targeted offers at the right time, improve their store experience, and address issues promptly when identified.
As a more practical task, it's vital to train and educate your staff in using Shopify POS. For the system to function as intended, your employees need to access its many features, and your customers should encounter competent individuals who can readily provide the service they need.
This is also how you ensure all features and capabilities are optimally utilized.
Lastly, remember that customer service is a crucial part of the Omnichannel experience. Therefore, it should be an integral part of your Omnichannel strategy. Providing excellent customer service not only strengthens your customers' relationship with your business but also fosters high customer loyalty - which is invaluable!
Work together with your customer service team to optimize processes and ensure top-notch service.