HubSpot can be used for many things. And it is the ideal platform whether you are looking for at tool for customer service, marketing or a CMS in general - the system can actually also be the sales partner you have always dreamed of.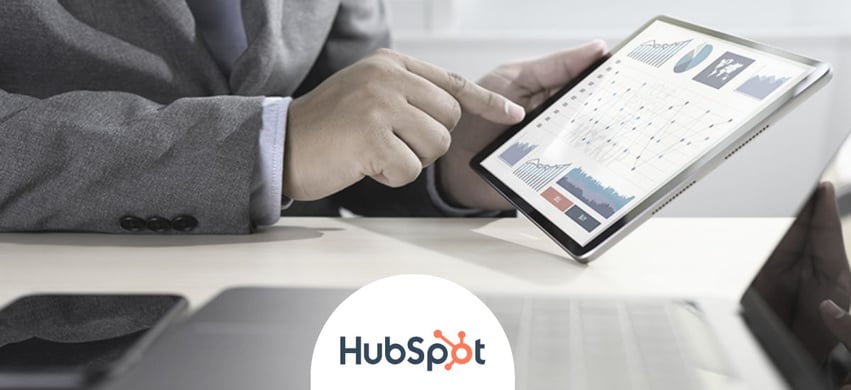 HubSpot includes a dedicated Sales Hub, which takes care of everything you need when you want to be successful with your sales processes. And in 2023 it is necessary!
Maybe you dream of closing more deals? Or about creating closer relationships with customers and streamlining the buying experience?
We understand that very well. This is the goal of most ambitious businesses. But unfortunately that is easier said than done.
Today a sales process is complex. It already starts long before you land a new deal and extends over the processing and aftermath of it. And without the right tools it can be a big mouthful to manage.
Customers have high expectations to the purchase experience and in general all contact with a company which should be pleasant and take place as smoothly as possible. And that places high demands on you and your business. Therefore you may need a helping hand because it is not a task you should handle alone - and not at all manually.
It is more important than ever before that you focus on your sales processes and how to best optimize and streamline these in order to achieve the success you dream of. It involves everything from handling new deals in a given pipeline, moving deals along the journey towards a won sale and the internal coordination. In this way you give yourself the best conditions for creating good buying experiences for your customers, and at the same time you can ensure that no information is lost between two chairs or is forgotten in the rush of busyness.
Today many companies have problems streamlining sales processes - not only for customers but also internally within the company. Perhaps you can nod in recognition to the following concerns:
How do we remember the many customers and their different needs?

Who is responsible?

How far along in the processes is a sale?

Is your sales team performing?

What do we do when a sales manager is out sick or on holiday? Who will take over then?

How do we distribute the tasks and ensure that no customer is forgotten?
These are real challenges and concerns. And they can arise for various reasons for example in companies that have not taken an active position on how the sales processes should be managed. Or with companies that have actually taken a stand but have not found the right tool to fulfill their goals and ambitions.
It was precisely problems like these that led HubSpot to develop a dedicated solution in 2017 that takes care of and handles sales processes from start to finish. The solution was named HubSpot Sales Hub.
How HubSpot Helps you with your Sales
Many companies use several different system to manage their sales processes. It could be an email system for keeping in touch with customers, another for organizing pipelines and perhaps a third for reporting. And it can be both time-consuming, inefficient, and expensive.
Fortunately, HubSpot comes to your rescue!
HubSpot has made it a mission to make life easier for you, regardless of whether you work with sales, marketing, customer service or a combination of these. In this case the system has developed a Sales Hub which provides a number of tools aimed at streamlining and optimizing sales.
A Sales Hub can be used alone but can also be advantageously used in combination with one of the other Hubs. For example you can combine a Sales Hub and Marketing Hub and in that way send e-mail marketing automations directly to your customers. You can read more about the different combinations of Hubs and which ones suit you best here.
HubSpot's Sales Hub stands out from many other platforms with its dedication and commitment to sales. The platform is constantly developing and improving so that it always meets the needs of companies with even the most complicated and lengthy sales processes. And that makes it hard to find an excuse not to use HubSpot Sales Hub.
Sales Hub is for both large and small companies. It can be adapted to the company's needs and size.
Maybe you are in a small company that needs the most basic tools. It could also be that you come from a larger company with more employees in the sales team and with many customers coming through every single day. Regardless, the Sales Hub can be shaped according to your wishes.
A Sales Hub in HubSpot helps you among other things to keep an overview of contacts and deals. You can build your very own pipeline with the deal stages you need. At each deal stage you can decide what should happen with designed and automated workflows. It may be that you need to send an internal email notification to one of your colleagues in the sales team when a deal reaches a certain stage. Or that a marketing e-mail must be sent to the customer with some information or a confirmation.
In the next section you can read how the various sales tools work and what advantages they have for you.
HubSpot is your Sales Partner!

HubSpot is the sales partner that keeps an overview when you are most busy. This is done with various tools such as:
Deals

Deal Pipeline

Forecast

Tasks

Documents

Meetings

Payments

Playbooks

Quotes

Reports
Overall it gives you a toolbox with everything you need to optimize your sales processes.
Deals: Create deals directly associated with contacts or companies
Use deals in HubSpot to manage deals and track potential revenue throughout your sales process. You can link deals to the contacts or companies involved in the deal. In this way you associate the relevant contact information and activities with a given agreement. And it structures your data so that it becomes easier for your sales team to find their way around agreements and information
You can create deals in several ways: through the index pages for deals, through the specific record, through your Gmail or Outlook inbox or via a workflow in HubSpot.
1. Create deals from the deals index page
Go to Sales > Deals > Click on 'Create deal' at the top right > Enter the details in the panel on the right.
In the panel on the right you can enter Deal name, Deal owner, Deal stage, Deal amount, and the stage in your pipeline you want it to be placed on. In addition you can associate the new deal with a contact or company to which it is then directly connected.
2. Create deals from a specific record (contact or company)
Go to a contact or company > Click on +Add under deals in the panel on the right > Enter the details of the new deal.
Perhaps you have just spoken to the customer on the phone, and you are therefore already logged into the contact in HubSpot. When the phone conversation is over you can quickly create a new deal with the information you just discussed with the customer.
3. Create deals from your Gmail or Outlook inbox
Once you have installed the HubSpot Sales Chrome extension, Office 365 add-on, or Outlook desktop add-on, you can create appointments for your contacts right from your email inbox.
With this shortcut you do not need to open HubSpot when you want to create a deal or a task - it can all be done from your e-mail system. You can also update contact information on a specific contact directly from your e-mail system. That is smart! And it saves you a lot of clicks which ultimately saves you precious times.
Many see the integration between e-mail and HubSpot as a valuable means of streamlining processes, and at the same time it reduces the risk of you forgetting important information along the way. You can update and create information directly in HubSpot while you are at it. And you do not have to write reminders and open a completely different program to transfer the information - you get everything at hand, and can solve the tasks immediately and even without it requiring more time from you!
4. Create deals with workflows and let go of manual work
A fourth option for creating deals differs from the above as this takes places automatically and without you having to lift a finger. However, it requires a Marketing Hub Professional, Marketing Hub Enterprise, Service Hub Professional, Service Hub Enterprise, Operations Hub Professional, or Operations Hub Enterprise.
Here you can set up a workflow with a specific trigger which itself triggers the creation of a deal with specific information. You can even decide in which pipeline and at which stage the new deal should be placed. In addition to this it is a good idea that the workflow also contains internal notifications that inform you or a colleague that a new deal has been created or updated.
Deal Pipeline: Keep and overview
Easily add your appointments, assign tasks to your team and track your deals in one place. In HubSpot you can create a custom Pipeline with the sales stages you need. It can for example be a Pipeline with the following stages: Lead, Qualification, Initial Contact, Proposal, Won, and Lost. There are many ways to manage a Pipeline, and therefore one can be tailored with exactly the stages that suit your business and the way you run a trade.
Once you have got a handle on which stages you need, you can start putting them to use.
You can both move deals manually with a drag-and-drop function. But you can also set up workflows for each stage so that you decide in advance what should happen automatically in each stage. It could be that a specific action must trigger the creation of a new deal. Or it could be that certain actions trigger a deal to be moved from one stage to another.
It is entirely up to you.
Forecast: Track the sales team's path to more sales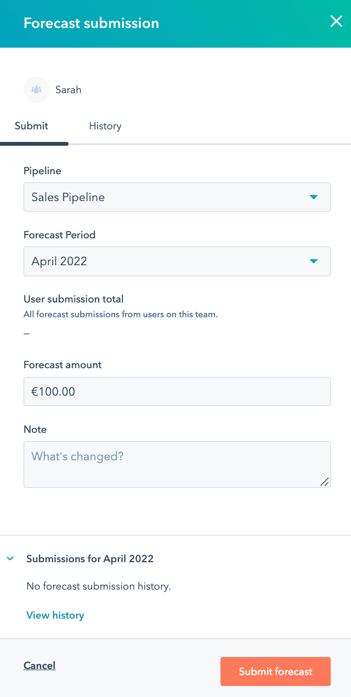 Forecast is also a feature that belongs to the Sales Hub in HubSpot. You can use Forecast to forecast revenue based on the likelihood that deals will result in a won sale. Here it is also possible to divide your deals into categories which you can adjust your forecast according to without losing track of where you are in the sales process.
Forecasting is a great tool to pinpoint where the sales team needs to focus to meet monthly or quarterly goals.
Before you get started make sure your sales team members have the necessary access to Forecast. All access to both the Sales Hub and other Hubs and the individual functions in each Hub is controlled from Account Setup > Users & Teams.
With Forecast in HubSpot you can help each other keep an overview of your goals, what the prospects for performance look like, and where you must focus to succeed.
Tasks: Keep track of your long to-do lists
Tasks in HubSpot is a simple but almost indispensable tool in a hectic everyday life. With the tool, you can create tasks for yourself and/or your colleagues. The tasks can be created as reminders, if you need to remember to follow up on an agreement with a customer for example. These tasks can also be created automatically in workflows if a certain action should trigger a task for you reminding you to take the next step.
When you create a new task there are various parameters you must fill in:
Titel. When creating an assignment choose a title that is appropriate. Make sure to make the task clear and easy to recognize and call for yourself and/or a colleague.

Type. There are 3 task types: Call, E-mail and To-do. If you have an integration with LinkedIn Sales Navigator you can also select the 'Send InMail' function.

Priority. Here you can choose whether the task is of low, medium, or high priority. This will appear clearly in the task and will indicate what needs to responded to quickly.

Association. A task can be associated with one of your contacts or companies. In this way it is easier for both yourself and/or a colleague to get an overview of the task and thus also take action on it.

Assigned to. You can choose whether the task should be assigned to yourself or one of your colleagues or the entire Team. Perhaps the task concerns something specific that only your colleague has knowledge of, and therefore that person may also need to be the owner of the task. In this way you also write it off your shoulders.

Queue. You can add the task to an existing task queue or create a new task queue. It helps both yourself or a colleague to prioritize a large amount of tasks. For this it is also relevant to use 'Priority'.

Deadline. Choose a date and time for when the task must be completed at the latest. It is always important to have a realistic deadline when a good flow is to be ensured in the task solution.

Repetition. With Sales Hub or Service Hub Starter, Professional and Enterprise you have the option of choosing when and how many times a task must be repeated. It can be smart for example if an agreement needs to be followed up on an ongoing basis, or if a subscription needs to be renewed every six months.

Reminders. In HubSpot you can create reminders as tasks or send an email as a reminder. You decide when a reminder should be created and to whom it should be sent.

Notes. Here you can enter more detailed notes about the task. For example if you have a task description that your colleagues depend on to understand and solve the task at all. It can also be a good to-do list for yourself. When you are busy and have many tasks it is easy to forget important details. The notes can thus mean increased efficiency.
But where do you create these tasks in HubSpot?
There are several ways you can create them.
Create tasks directly from Tasks. Go to Sales > Tasks > Create task at the top right > Fill in the required information.
Create tasks on specific Records. You can create tasks directly on a contact, company, deal, ticket, or a custom object (custom objects are part of HubSpot Operation Hub).
In addition you can create follow-up tasks.
It can be useful if you send an e-mail and at the same time would like to create a task to follow up on that particular e-mail in 3 business days.
Documents: Your sales library
Documents is your library where you can collect all the documents that are useful for the team. This makes it easy and quick to access important documents, and you are free from looking for them in the east and west.
You can also retrieve links from these documents in HubSpot that you can share with others.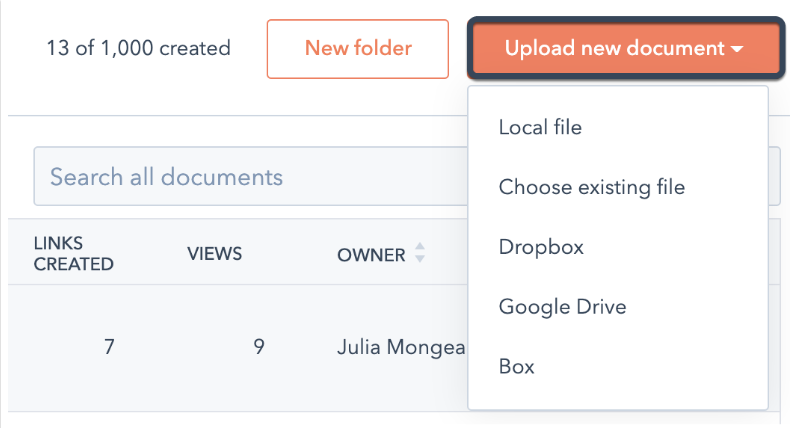 Meetings: Meeting booking made simple
HubSpot has its own meeting booking system under Meetings. Here you can schedule meetings and avoid the many e-mails back and forth when meetings need to be scheduled. With meeting booking your contacts can schedule meetings in accordance with your work calendar. The function can be synchronized with your Google Calendar or Office 365 Calendar.
In the setup you can choose the duration of the meetings yourself. For example you can decide that it should only be possible to book meetings with you for a duration of 15, 30, or 60 minutes. The meeting booking is then updated according to your calendar so that it only shows times when you are actually free and have time for a meeting.
This means that you simply send a link to the person you are holding a meeting with. This person accesses your calendar via the link and books a meeting in the places where you are free - without you having to deal with days and times. You can also create different links for meeting booking if you have different areas. In this way it becomes easier for you to overview the meetings and to attribute value to them, e.g. in relation to different campaigns.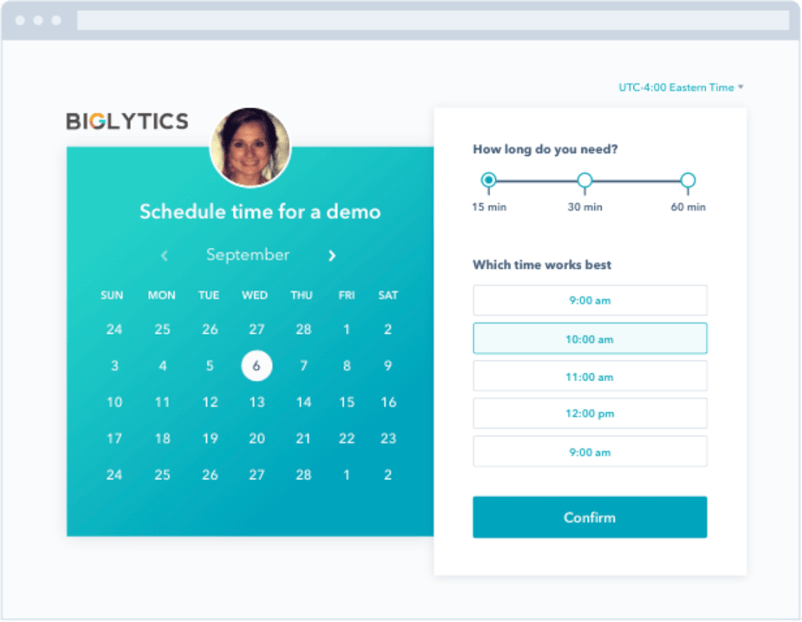 You can make the link for meeting booking a part of your email signature so that it is always easy for your contacts to book a meeting with you. The easier it is to book a meeting, the more meetings you get in the calendar. And if you are a good salesperson that means increased sales.
Payments: Your Payment System
With Payments in HubSpot you can collect one-time and recurring payments from your customers in your CRM using Quotes or payment links. Payment links can be shared directly with your customers via email or chat.
You can manage the customer shopping experience by providing receipts, payment notifications, and refunds.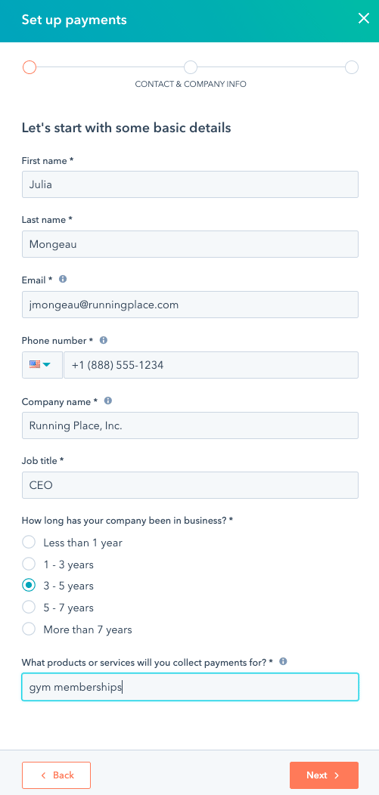 However, there are a number of requirements you must meet before you can use Payments in HubSpot:
You must be a Super Admin to create and manage Payments.

Currently Payments is only available to businesses and organizations located in the US and using a paid version of HubSpot.

Payments is designed for customers who sell non-physical goods (e.g. software, services, events, courses, content donations, etc.).

Payments are powered by Stripe. You cannot use an existing Stripe account, and only one Stripe account can be integrated.

The tool is not supported in Sandbox accounts.
To activate Payments in your HubSpot account you must complete an application process in HubSpot and confirm your identity with HubSpot's payment partner, Stripe. Once your application is approved, you can start using Payments in HubSpot.
Quotes: Send offers easily and quickly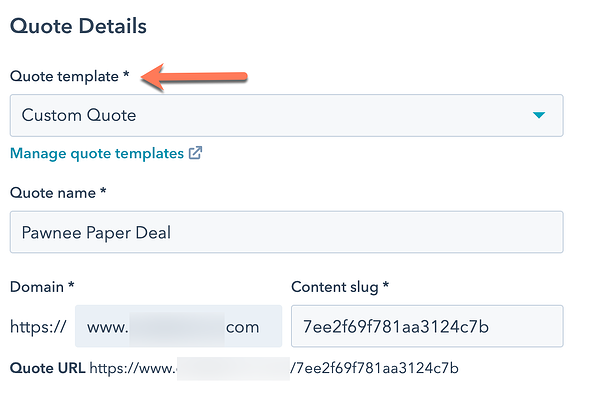 Customers appreciate a fast and efficient sales process, and with Quotes in HubSpot you can easily send an offer to customers. You can create offers that you can share with contacts who are interested in buying a product or service from your company.
And much of it can even be automated.
In a Quote you can easily integrate a payment link so that customers can also make the payment upon receipt of the offer.
And if you have an integration between HubSpot and Shopify you can add products that are created through the integration, and which will this appear as Line Items in your HubSpot account, which is why you can easily add the to a quote with the correct price.
Make the job simple with the HubSpot Sales Hub
Now we have gone through the many tools that exist in a HubSpot Sales Hub. There are countless options, and there is plenty of opportunity to make research on how you can optimize your sales processes with the help of HubSpot. To get started with a Sales Hub you need to decide which of the 4 solutions you need.
Sales Hub is available in 4 versions:
Sales Hub Free

Sales Hub Starter (starts at $45 per month)

Sales Hub Professional (starts at $450 per month)

Sales Hub Enterprise (starts at $1,200 per month)
The first edition is completely free for you to use and contains the most basic tools in sales. After that the last three editions increase in price and the number of options which is why with a Sales Hub Enterprise you get access to all sales tools in HubSpot.
With this approach you can therefore test the system and thus become familiar with the most basic tools before you choose a paid version of HubSpot Sales Hub.
Do not know which one to choose? Or are you in doubt about the best way yo get started with a Sales Hub? At MCB we would like to help you on your way. And this applies regardless of whether you are already working with HubSpot or are interested in hearing more about your options with a Sales Hub.
Do not hesitate to contact us.